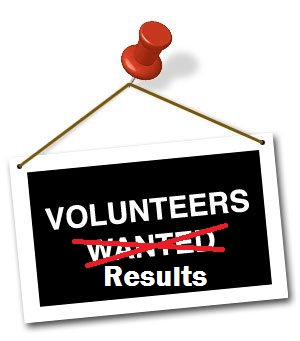 So…  you may remember about 10 weeks ago I put out a post asking for volunteers. I had been busy designing an 8 week online programme designed for Ehlers-Danlos syndrome and associated connective tissue disorders. The whole programme was to be done via secure private video link wherein the volunteers  needed to follow along with the videos exactly as they where presented. I received a huge response and I eventually ended up with  around 30 volunteers, who where divided into Group A (who have now finished) and Group B  (who started 4 weeks later)
Details on Group A can be found below. Group B are almost finished and have experienced even better results than group A, as I have been able to tweak things gauging off group A feedback, essentially running a version 1.1 at the same time. I will, when group B finish, post their results.

Aim
My aim for this programme is to see if "some" of the results I have working with individuals 1:1, could be attained without me every meeting an individual. Using the past experience of the countless people with EDS I have seen over the years, I put together an online video instruction programme. Obviously I wasn't expecting miracles, but despite everything I ended up with a MASSIVE 90% success rate (success in this context means reduced fatigue, pain reduced down to nearly nil, stabilised pevlis' and subluxations and dislocations reduced).  However, all participants reported feeling better than when they started.
Out of the 30 people;-
*4 people failed to start the foundation exercises on time and were, as previously told they would be, removed from the trial.
*3 went silent, not responding to messages and I removed them from the trial
*2 missed the first session and were removed from the course.
The volunteers
The volunteers in general were very varied in symptoms and complaints,  3 member's of group B started the course on crutches and whilst they have not yet reached the end of the programme, are already off them. Several of the participants suffered from POTS and I was even lucky enough to have a Regional Coordinator for  the Ehlers-Danlos UK charity take part in the programme. For both groups I created 2 private Facebook groups  so participants could get to know one another and also allow me to post the video sessions as required. I have attached some screen shots of our 8 week journey together.

Results
Group A – The results were far better than I could have imagined! In group A, 9/10 people reached the personal targets I had hoped for them and saw a huge reduction in pain and increased energy.  Although 1 participant did not see the reduction in pain and increase in energy like we hoped, she did report feeling better than before she started and had the following to say during the post trial feedback.
"I have Improved posture, feel lighter and less weary when walking. No change I am aware of to general soreness or fatigue. Knees still slipping sometimes. Coat hanger tension still present and still having some trouble with the knot feeling though not as much as when it first flared up. Feet feel better than before I think, managed all the standing whilst cooking over Xmas without problems, did have a shoulder/ arm pain flare though."
2 of the participants in Group A I had met whilst in Edinburgh performing workshops. Whilst I had already carried out individual assessments and knew of their individual cases,  I  did not use this prior information to tweak their programmes specifically and kept to the plan everyone else had.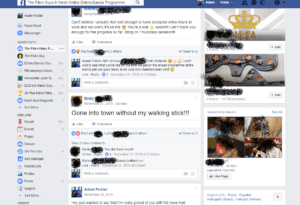 Rachael, who I had met in Edinburgh, had this to say during the end of programme feedback;-
"In terms of the programme, I will go right back and start when I saw you in Edinburgh. At that time, I was in a great deal of pain in my neck, shoulders and all the way down to my fingers. I was in a hideous spiral of being given increasingly strong opioid painkillers which weren't really helping me and ever increasing depression and despair. I was beginning to fear that nothing would ever get better. I was mobile enough to exercise , although it exhausted me and I had limited use of my hands and fingers. I still cannot write for any length of time. Within days (as you know) of beginning the foundation exercises about 90% of my pain disappeared. Mid way through the programme, i felt great! It has been lovely doing proper exercise again, especially exercise that I know is going to help me this time. Going through the programme has been a revelation, I didn't realise just how dysfunctional my pelvis/back/shoulders were and how badly I was moving. Now I am aware of what I should be doing and I am getting ever stronger. My pain in my shoulders and neck has gone (though elbow, wrists and fingers are still sore but then I have been overdoing the typing) and I can feel the correct muscles working when i move. Once I get past this cold, i am hoping to begin running again!"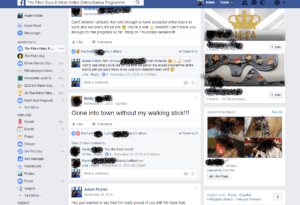 Andrea;-
"Hi Adam. Sorry for the late feedback! 1) Before the program I had daily lumbar spine pain which added to my mobility challenges. I was struggling to work part time and keep up with my 5 year old. my body was constantly clicking as my lower limps stabbed with pain at movement and rest. I had recently upped my pain killer dose to cope with the pain prior to starting the course. This had led to at least two full days having to be spent in bed recovering from day to day life. 2) Mid way through the program I found that the most notable visual change was my posture and knees not beng hyper extended for the first time in forever. I also had overall increased energy levels with less fatigue. Also when I did over do things and fatigue set in my recovery time was much quicker, needing less rest periods. 3) The increased energy has carried on and allowed me to not only have an improvement in my physical abilities but also less brain fog so more focused at work which has been commented on by my management. The program has given me a new lease of life by allowing me to better understand the functionality of my body in movement and how to self manage to reduce pain. My back pain is near enough gone (only issues have been one awkward heavy object and one fall down some stairs) I have also managed to reduce my pain medications to half what they were before the program. 4) I really think the foundation exercises should be carried out through out the program. I did stop them but then found I was getting a little lazy and the session days were a lot harder as my movements seemed to be slipping back into old ways, so I restarted them.!
Taryn had the following to say;-
"Before the programme I was getting tired very quickly. A morning out with the kids over the summer holidays would mean an entire afternoon to recover. I would become impatient and snappy for the remainder of the day. I had pain in my left knee on a daily basis as well as my left foot. It was constant, not crippling but just enough to bother me as I walk everywhere instead of driving (my preference as I can drive). My pelvis was unstable and painful. It had been aggravated during childbirth, especially with my second child. I had intense physio (from the womens health physio specialist intended only for maternity and post maternity but in my case they had to make an exception) nearly a year after giving birth to my youngest. The physio was over a course of 6 months on a weekly basis requiring a daily commitment to exercises. I felt a lot better but a year or more later my health started to slip again which is when I started to read more about my EDS and join forums for support. Eventually somebody recommended the Fibroguy!
My mobility was quite good, I walked an average of 8 miles a week or more and carried my little boy when he needed. Pushed the pram, carried scooters. Did the shopping. Basically pushed on as a lot of moms do. But I had low level pain constantly and it peaked in the evening.  Mid way through the programme I could feel improvement. My knee pain had stopped as well as my foot pain. I felt stronger and my energy levels had improved. It was inspiring and motivating as the programme does require dedication and commitment even when you're wiped out from your day to day chores and your little ones have nearly finished you off with their never ending needs and requests. )I loved the (slight) visible muscle tone improvement to my stomach ( I was flashing it around pre Christmas to my family but post Christmas that's a different story!). My mobility is much better and I love the awareness I now have about which muscles I really should be using when going about day to day tasks. And trying to be very conscious about using these muscles, even if I only manage 50% of the time to do things right it's a big improvement. I will continue to pin and press because the relief it brings is massive. I didn't even realise how tight my calves were until the programme, they used to cramp and spasm when I stretched in the morning but now that's gone.  Thanks again Adam for including me in your trial programme!!"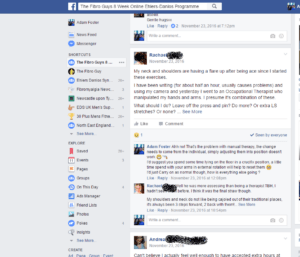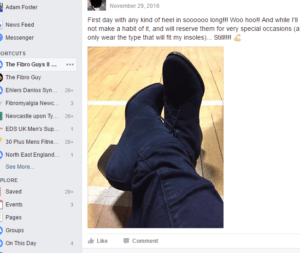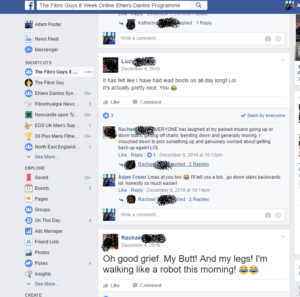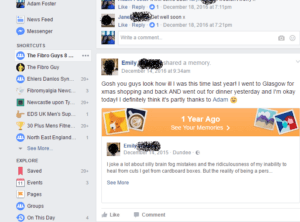 Lydia had this say;-
Hi Adam, Firstly I just wanted to say thank you; thank you for your continued support, cheer leading and overall positive energy. It really made a difference. Before the programme, I was not very confident in my mobility and this is where I have seen the most difference! My pain levels seem to fluxuate a lot more so in the cold and wet weather, and I become more anxious about my mobility in the Winter because of this. Completing the foundation exercises is the thing where I saw most progress; I began to not only become more confident in exercise but I also became a lot more aware of my body. I was not aware just how unaware I was about the way I stood, walked, held my posture, hyper extended- and usually in a way of trying to protect my self from injury. By becoming more aware of these postures and over and under movement, it helped me to change and adapt my positioning of my body in everyday tasks, such as just walking and sitting. By continuing this, I felt my body use muscles that were never 'awake' and work harder, but relieved pain from elsewhere. I do wish we had kept the foundation exercises as mandatory (but as discussed, I went back and reintroduced these) because when we stopped them, I noticed a considerable difference in my strength and some old pains came back. I will continue these. For the first time, I began to actually enjoy exercise! My stamina has definitely improved, and I have noticeably seen the improvement in my fatigue and energy. I want to get up and look forward to completing stretches and pinning and pressing- something I first HATED yet not LOVE! The only thing I would have found more beneficial is that using a client with EDS- to see where possible hyperextension occurs. I found it really helpful when you used your girlfriend at the beginning and you showed her how to do each exercise. I really found this useful as it felt like you were here with me teaching me the exercises, because sometimes when you just did the exercise there were limited struggles for you, and it is harder to correct yourself. (I am not sure that made much sense?) Overall, I am really pleased with the programme and I feel very lucky to have completed it. I am feeling motivated to continue these, and I really want to (and need to ) sort my back spasms out, as these obviously limited me in my progression. I am awaiting seeing a back specialist because of a nerve being touched by the disk. (possible epidural, I have puot this off the last 2 times seeing him but now feel this may be needed as this is is the worst pain and most difficult to 'push through'). I wonder if seeing a specialist would help in this so will keep you in the loop. Again, thank you Adam for all you have done, and I hope to stay in touch. Happy New Year! Lydia 
Emily;-
 "I started off the programme with wildly varying health – sometimes I would be bedridden and sometimes I would be completely 'normal'. I had a lot of shooting pains as nerves got trapped in my slide-y joints, and I had a constant deep ache in my lower back. As early as two weeks in, it was gone. My fatigue was fading away and my body felt far more engaged. Now we've finished, my fatigue is so much better than it used to be; I still have less energy than an abled person but I don't crash (as in, shut down and need to sleep immediately) nearly so much. In fact, I can't think of a time when that has happened in the past couple of months! My joint pain comes and goes but it's much less frequent and I feel so much better equipped to handle it and take steps to help fix it. My posture is really improved too. I'm incredibly grateful!"
---
---
All in all I am extremely pleased how this has all turned out. I had realised before we started, I was being very ambitious with this programme. Watching the group grow together and sharing in their achievements has made me very proud to work with them all. Yes, we had some brilliant results, but we also had little minor set backs that we tackled one by one; one participants plantar faciitis is almost gone! All in all, I couldn't ask for a better group of volunteers and I thank them for their time.
So what is next? I will more than likely wait until group B finish and run the whole thing again one more time to iron everything out! And after that? Ill be calling the camera crew to get it filmed properly and having it as an online programme!
Gentle hugs
Adam