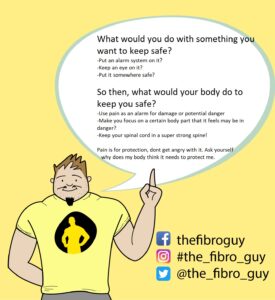 Pain is an important part of being as human it protects us from damage. It's important to remember that things like degeneration, posture, leg length differences are very poorly linked to pain.
A study by Finan et al (2013) found that of 113 people with severe arthritis reported having low pain and those with mild arthritis reported having high pain.
I'll tell you about my hatred of suits!
Every time I put on a suit my back hurts! I don't suddenly become misaligned, nor does my posture become bad (in fact, I stand up straighter in a suit). I do, however, associate them with a certain restrictive feeling and a general sense of uncomfortableness.
Pain is not solely linked to damage. There are many other factors involved. If you wish to get out of chronic pain then we need to start doing more than we already are and thinking differently. How uncomfortable and painful does it feel when you sit in the waiting room of your doctors? Is it because they buy only the most uncomfortable chairs? Or maybe is it because we associate the doctors waiting room with sad news, sickness or just general panic?
We need to start thinking of pain in a different way!