End Of Year Review 2018 – So many people have changed their lives this year!
As another year comes to a close, I take a trip down memory lane and revisit some of the amazing people I have worked with this year. I have a look at how much they have changed their lives, and how 2018 has been in general.  I'll take a look at the various projects I embarked on and take a look at the ups and downs of this year. This is also the third year I have taken "The Fibro Guy " to social media and I'm still blown away by all the support and positive comments, it's truly appreciated! Obviously, there will always be people who want to put others down, but I'm sure as those hard-working clients of mine sit down to enjoy a pain-free Christmas, they won't be thinking of the negative comments 🙂
2018 has been incredible! It started off with the worst news possible with the owner of the studio I rented space from closing down. Obviously, this left me stressed out in January as I was forced to find a new studio, but seemed to turn around when I decided it was probably time to get a place to call my own!
New Beginnings
In February, I moved into my very own studio. I finally had somewhere to hang the success stories of my wonderful clients, the only problem was I ran out of wall space! However, I soon realized I'd be moving in with nothing more than a swiss ball, a rubber band, a set of cables and 2 kettlebells to my name! This was incredibly stress
ful, but soon more and more equipment arrived I met more and more new clients and It slowly started to feel like home. We even got our own Tyre, who we called Geoffrey! I had originally put googly eyes on him to make him look less threatening, but he slowly became his own person and is a part of the studio I just couldn't live without!
Last year I blogged about a lovely young woman with EDS called Lauren, who wanted to walk down the aisle without a wheelchair. She told me that if we could get her to walk down the aisle, then I could come and dance at her wedding. In February, my first item of mail arrived at the studio, which just so happened to be a wedding invitation to her wedding. Obviously, I went and got to watch this beautiful you woman walk down the aisle.
All in all, moving into my own place has been a very good move. I've had the chance to grow this year with my own space and with the added transport link, it has made workshops a lot easier. The studio also has heating, which is something I've never had in a studio and when  "the beast from the east" struck and brought snow, it made me glad I had moved!
---
Press
Its been a great year with several of my clients featured in both the local and national press. I am always eternally grateful when clients let their stories be told, as it helps to spread the word that there is many things people can do to help themselves and how they live now, doesn't have to be forever.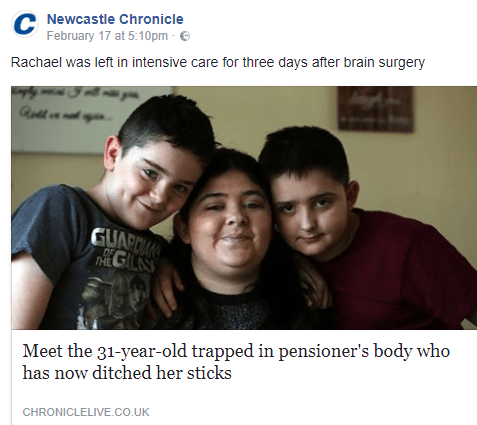 Rachael – Fibromyalgia/Chiari Malformation
The first article was the lovely Rachael. Rach underwent surgery for a condition known as Chiari malformation around 3 years ago. Shortly afterward, she started to experience left arm pain that eventually spread to other areas of her body. Rachael soon began to develop problems with walking and eventually ended up on sticks. Things soon got worse and she became almost housebound, with two young children to care for and things soon got harder. Eventually, what happens to most people happened and she got slapped with the big ole life-limiting fibromyalgia label and left to get on with things. In 5 weeks Rach was off her Gabba drugs, off the stick and doing things she couldn't even do before the surgery.
You Can read Rachael's incredible story in the press here or you can watch her videos here.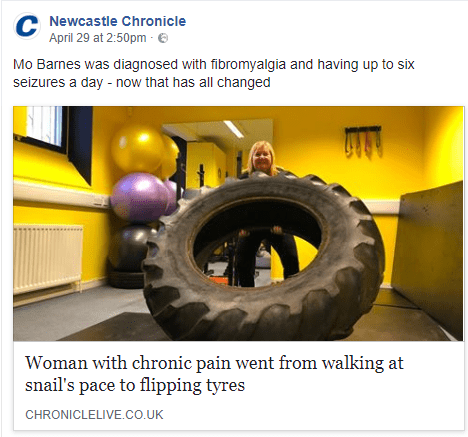 Mo- Fibromyalgia/FND
 Mo had attended a local Fibromyalgia support group and had been disappointed in the lack of positive action for recovery, as she felt Fibro was just a label (that's ma girl!) this is what kick-started her to come and see me.  Mo couldn't move without pain,  couldn't walk very far, felt incredibly sluggish all the time and was having up to 5 seizures a day that Doctors but down to FND. In just a few weeks she was pain and fatigue-free, throwing huge 120kg tyres about, she taught herself boxing,  set some deadlift personal bests, and her seizures stopped. As I had originally thought (as I've seen it a few times) they were down to the pregabalin! (You can never be certain but from experience, it's the common denominator)
You can read Mo's press article here.
*Mo continues to no longer suffer from seizures*

Elysia – Hypermobile Ehlers-Danlos syndrome
This is what gets me out of bed on a morning! Seeing smiles like this as people work towards goals that people say can't be reached. I first met Elysia as part of my yearly summer volunteer programme. I was looking to work with someone with long-standing mobility issues and Elysia more than met the criteria. Elysia had worked tirelessly over a few weeks and continues to go from strength to strength, whilst also suffering from connective tissue disorder which makes t
hings notoriously more difficult. At only 14 years old Elysia has shown immense courage, self-discipline, and consistency and I'm incredibly proud of her!

Rebecca – Fibromyalgia/CRPD
 Rebecca achieved a full recovery! (just like her Mum Debra, who was my awesome volunteer for the mini-documentary last year! Debs- https://www.chroniclelive.co.uk/…/amazing-see-how-disabled-…) 
4 years ago Rebecca had a fall whilst out shopping and ended up with chronic pain after an initial ligament injury. After countless interventions from various hospitals with medications, lumbar injections and constantly being told her muscles wasted away and to basically accept how she was, the next stop suggestion was a spinal stimulator! Rebecca even went as far as to debate getting it amputated! She is also hyper-mobile and after the accident her left leg started to give way, buckling when she would bear weight on it. But, today she leaves me to get back on with her life with no pain, no fatigue, a fully stable leg and on no medication as we are now off the lidocaine.

---
The Book
I'm 2017 Dr Mairi Harper entered the old studio to see me for a 1:1 workshop. Mairi was diagnosed with fibromyalgia in 2002 and by 2015 she was mainly wheelchair bound and unable to work. Mairi made a quick, full recovery and as a psychologist, was amazed at what a slightly scary ex-soldier with nothing more than a GCSE in art behind him had managed to create. In Mairi's own words "I needed to find out more about what had actually happened to me and how I had recovered".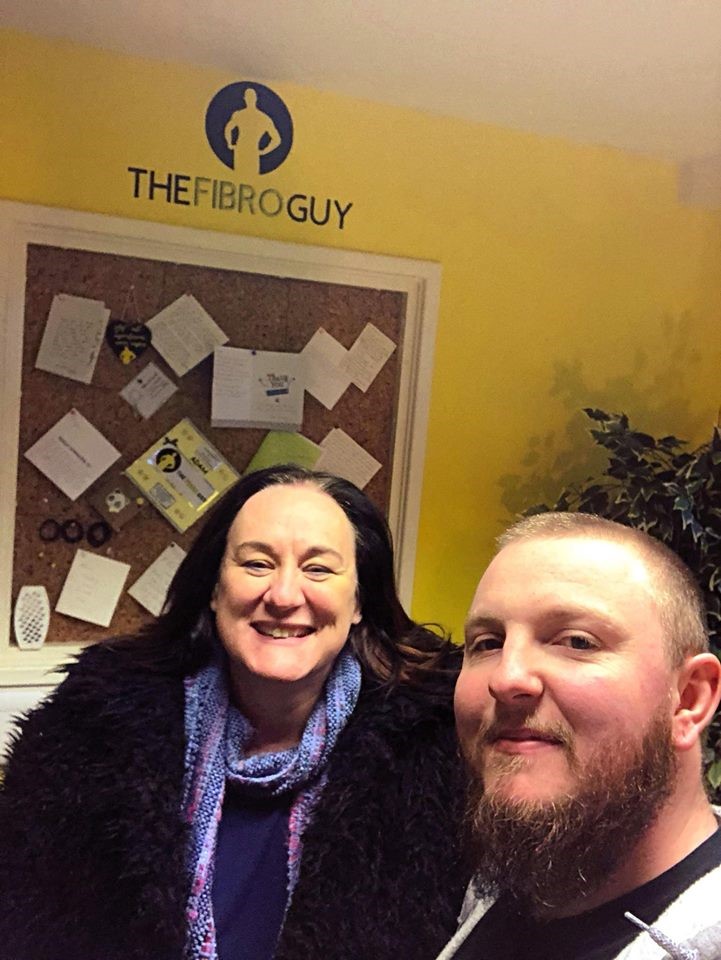 1 year on from her full recovery, Mairi and I released our book "No Pain, No Pain" which delves into one of the key components to my programme and is by far the most I have ever publicly talked about the process.
"No Pain, No Pain" introduces theFibro Guy's method for treating the previously "incurable condition" of fibromyalgia. Created and pioneered in the UK by the Fibro Guy, whose method is highly successful, tried and tested approach to enable your recovery from severe chronic pain. The authors have translated cutting-edge neurological research into an easy to follow, step by step process which will empower you to become free of chronic pain, without heavy pharmaceutical reliance. Reading this book will give you the knowledge you need to challenge many of the myths surrounding fibromyalgia and will support your first steps toward wellness"
Our "baby" is now finished and currently in print, ready to go live and to celebrate we are running a small competition giving away 3 copies of the book along with access to the online content. For a long time people have always said: "what works for one, won't work for another". "No pain, No pain" explains why this is and why it doesn't matter when you recover with my model. Pretty much every answer to every question I have ever been asked is in here and is heavily supported by the latest research 😊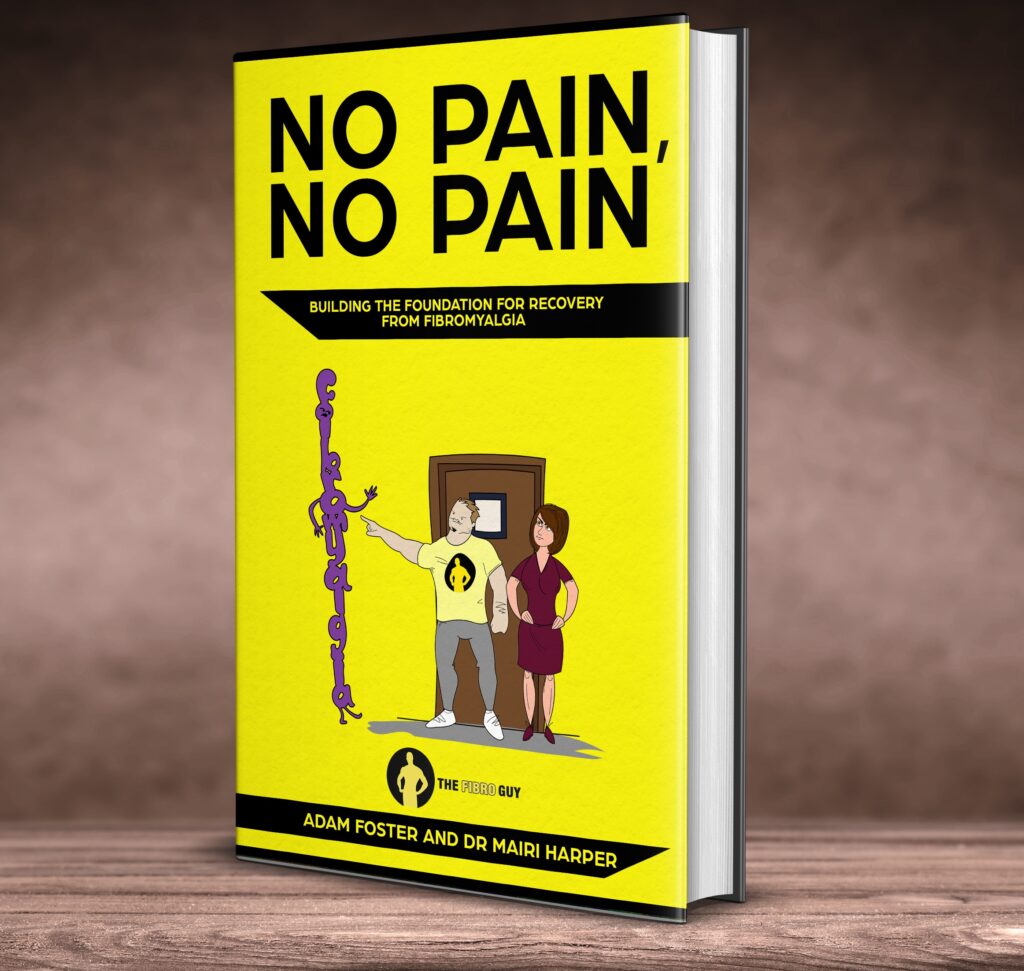 Available here – https://www.thefibroguy.com/shop/no-pain-no-pain/
---
Anniversaries
Lisa
Lisa's had her 1 year recovery anniversary and with receiving a lot of greatly appreciated positive comments, we decided to take some new footage to see just how far she has come. 
Lisa:
A year ago today I was in a wheelchair, I struggled to walk very short distances without being in absolute agony, my legs were very weak and I needed to use walking sticks because the littlest of thing and I would fall over. I also had very little movement in my neck and I thought that was going to be it for the rest of my life. I was willing to give anything a go as I just wanted to get my life back on track. I completed two weeks of cold showers and it was the first day of my sessions with The Fibro Guy, I was very nervous as I did not know what to expect and I knew that it was going to be painful but I was committed to giving this programme my all as I had seen some amazing success stories and I just wanted to be a normal woman again as I had lost nearly three years of my life and I was taking numerous painkillers.
A year later and my life is completely different, I am not in a wheelchair or using walking sticks and I am getting stronger each day. I am volunteering twice per week and I am also completing a college course to work in a sector that I have always wanted to work in. I have also driven a car for the first time in nearly four years (because Adam tricked me lol) and I am going to get back into driving properly soon. I am not going to lie my journey has been one of the toughest things I have ever had to do but it has been completely worth it.
I would just like to say a massive thank you to Adam Foster (The Fibro Guy) for all of your knowledge, experience and support from my first session when I came in to my session in a wheelchair to today for all of your ongoing support and torture that you still put me through to keep me on my toes lol. I would also like to say a huge thank you to Jan Ware for my massages as well 😃.
The message that I really want to get out there to you all is that anything is possible if you are committed to changing your life for the better no matter how hard it is going to be, which I have proved to myself, my family and my friends. I would also like to thank my fabulous family and friends for their support as well 😊.
I can't wait to see where I will be this time next year and you will still probably have me as a client Adam unless you get sick of me lol 😂😂🙈 xx
Steph
Steph has waited a long time for her last appointment at the M.E clinic and it's finally happened…discharged
Steph-
So yesterday was an emotional but happy day for me. I had an appointment with the M.E clinic where i attended every couple of weeks from Jan 2012 when I was diagnosed with M.E. Its only this year where I didn't need to go as much with doing so well. But when I walked in yesterday 1 of the specialists who I saw from the beginning who had been off for 2 years was back & she was amazed at how well I was doing & couldn't believe how far id came! Then she said what I'd been longing to hear 'its time to let you go!!! I obviously cried haha & even she filled up as she said she was just so happy as I'd been through so much. She asked what was running through my mind & I said relief, relief it really is over! Although the hydrotherapy & some of the things they gave me over the years helped to a degree I told her it was the amazing fibro guy aka Adam Foster who really gave me back my life. I can't shout about him enough. I was told id never get better but I never gave up & stayed as positive as I could then I met him & was willing to try anything, and as I've said before I will never be able to thank him enough. This was still the icing on the cake to know I've now been discharged from all my specialists for my various medical problems & another milestone complete. I'm just so happy I could see the specialist who hadn't seen me for a couple of years & show her I have kicked M.Es butt!! Dave cuddled me when I came out & I just said it's been the hardest journey I've been on so far & I'm so lucky he stuck by me & helped me through it. I love him more than anything. Same goes to my Mam, Sister & all my family/friends, without them id have probably believed more that I wouldn't get well but they kept me going. It's been a big year for me with many challenges & I'm still going strong, I still have areas to tackle but I know I'll get there, if I can be where I am now after being told there was no cure, I can achieve anything!
Cat
"Sweaty finish photo! A year ago today I traveled up to Newcastle to meet @the fibro_guy not knowing how life-changing it would be. After suffering from fibromyalgia and being unwell for years Adam promised he would have me running pain free within a month of seeing him and true to his word ran a mile 1 month later. Since then l've built on this..last week I smashed my goal of running 10 miles and today I ran a 10k to celebrate the anniversary and knocked 8 mins off my pb, doing my 10k in 56.28! The last year has been tough in parts and involved a lot of hard work and determination but also absolutely brilliant to have my health back. Thank you @the_fibro_guy you are truly amazing and will always be grateful to you for giving me my life back"
I love celebrating the first year of recovery, as its an important miles stone and I wish I had the time to write down everyone's 1 year recovery 🙂
---
I shaved my head!
This doesn't really fit anywhere, I just wanted you to know lol. I got bored one night and wondered what I would look like without hair. I was slightly concerned Id have a lumpy head, but no, nice round lollypop under my hat 🙂
---
Workshops
As usual, Ive seen a lot of people from all over the country this year, in the form of workshops. Soooo many to choose from, so here are a couple of my favorites from this year 🙂
You may also notice that they are all EDS, and that's why they are my favorites. Because my Stuff is hard enough for EDS when I'm there to do it 1:1. So anyone that can do it by themselves at home with limited 1:1 access, solely only sheer self-discipline and determination gets my respect for life! Way to go, girls, you absolutely smashed it and finished something incredibly hard, that most people never even start!
Anita
I first met Anita when she came up to the studio for a workshop and 500mile round trip! I got a wonderful message the other day to tell me she had been discharged from the hip clinic, So I thought I'd do a little update 😊I'm pleased to say all her hard work paid off, especially considering the next step for her was a hip replacement!
Anita :
"I have HMS/EDS and prone to dislocate and sublax joints. 11 months ago, my hip started getting progressively worse, I was on crutches, 6 months off work, heavy painkillers, xrays, MRIs and countless incorrect diagnosis' from 3 specialists and was expecting a total hip replacement. Through working with Adam remotely, I have been able to get back to work for the last few months in a physically demanding role as Cabin Crew. I am weight lifting again, running and strong!
And as of this morning, I have finally been discharged from the hip clinic with a clean bill of health. Even though I knew that would be the outcome of the appt, I wasn't expecting to be so emotional! Hearing the specialist tell me I was clear, was amazing! (Currently sitting in the car outside the clinic crying tears of joy!)
My other "problematic" joints don't bother me like they used to and the pain doesn't control my life anymore and I can live without fear of pain or body trouble. I don't remember the last time I had to take painkillers, and for the first time in maybe 15 years, don't worry about leaving the house without painkillers!
I wouldn't be where I am without you Adam Foster. Thank you for all you have done for me and others. I am truly grateful. Xx"
Jamie
Jamie- "After I got EDS my diagnosis I felt like the rug had been pulled out from under me. I've been totally lost. I have always been goal orientated and have worked my ass got to get a decent career. Then when my mobility and quality of life went I didn't know who I was anymore because I couldn't be the person I was or do the career I'd planned out.
I was at work the other day (I work in a library) and was getting training on working with our local history collection, cataloging and doing research. It sounds boring but I love it. I finally felt like me again. For the first time in a long time I'm thinking about the future. I'm thinking about going back to university and training to be a qualified librarian, and it's all because of Adam and knowing that I can get my life back. It's a great opportunity to start fresh. I wasn't in a great place mentally before I started this. I hadn't accepted my diagnosis. I'm now in a position where (although I do still have bad days) I am thankful I've gone through this. It's been the hardest I have ever done but I've also learnt so much about myself and what I'm capable of. If I can recover from this and learn to manage my conditions better than I can do anything and should no longer let anything stand in my way"
Rebbeca
"I started with Adam 8 weeks ago after an accident left me struggling with Whiplash, CRPS & Migraines for a year and a half. I saw multiple physios, Dr's and a pain specialist. Basically, I was told to just learn to live with it when meds and nerve blocks didn't work…
The difference in my pain, activity levels and quality of normal day to day life is amazing. I'm so lucky that I found The Fibro Guy when I did and can't wait to see what the future brings 😊 Thank you"
---
I worked with people with some new conditions
I had my very first client with Japanese encephalitis.
Lynn
After having contracted Japanese encephalitis from travels in Thailand and suffering from chronic fatigue as a result for over 18 months, it was a godsend to find Adam.
His programme is tough but I'm proof that it works. Having gone from someone who was operating at a hundred miles an hour to someone who was struggling to get through a working week and spending most weekends in bed or recovering, the transformation in 9 weeks has been brilliant.
I'm back to my old self and ready to embrace life again. It is truly humbling to work with someone like Adam who genuinely wants to help people to be the best they can be.
Thank You from the bottom of my heart for helping me to be me again"
---
I had my Daughter come help out with a kids video
This year I have seen an incredible rise in the amount of 7-16-year olds I work with. So, I thought it might be a good idea to try and help those out with hypermobile kids at home, with some fun exercise games they can play.
---
Backstreets back, alright!
Not even going to explain this, just watch 🙂
---
I turned 30!
Thank you so much to everyone for such a great surprise 30th. To see so many of my past and present clients take the time to put together a surprise 30th for me is incredibly heartwarming. Thank you for those who traveled up from far away as well, to make it extra special and thank you all for the presents.
I don't have much in the way of blood family, but I consider you all my family and I'm incredibly touched by today 😊
A big extra thank you to Lisa and Bev for secretly organizing everything and getting in touch with everybody, to arrange such a great time x
---
Some amazing recoveries
I hadn't actually realized how many people I have worked with this year and it actually shocked me! So, I've picked a couple at random for this year…Enjoy 🙂
At 52, Peter has had three total hip replacements, a spinal fusion, cheilectomy on both big toes and has been repeatedly told he have CFS, Fibro etc.
Mobility problems, hip and knee replacements have always been something Ive really enjoyed working on with people over the years. You can really, visibly, measure progress and no two cases are ever the same and there's lots of variables to work around. Im really enjoying working with Peter at the moment as he has gone from being very careful of his movements because of pain, to someone who is really starting to enjoy using his body again! Evident in the laughs we have in the studio, the fact he now gets stuck into whatever moment I throw at him and best of all , when he is smashing 68miles on his bike at the weekend!! There's not many months left of 2018 and I'm really hoping to see a few more people on sticks and crutches by Xmas 😊
Nice one Peter🤛
———-
Peter:
"I have been working with Adam for the last eight weeks. My history has created many restrictions in my life and I needed to break free and find a way to live the life I want to live. From moment one Adam impressed me, from the initial consultation where he asked me go away and think about whether I could commit to working with him, to the vast variety of sessions he puts on for me to help me move again pain free. I can only 100% endorse the work he does and the man himself. In eight weeks he has turned me from a been scared physically to move in certain ways to someone who will eventually be able to run again
without fear and live the life I want to live"
---
Wasn't 5 minutes ago she was sat in her consultation telling me about chronic fatigue. showing me were her hips hurt and talking about her SI joint belt!
It was Nicola's last session today, she has gone from chronic hip pain from the slightest weight bearing movement to
running a 5k, pain-free and buying a bike now that she's doing 12miles!
I'm gonna miss Nick a lot and nothing made me as proud as watching her recovery journey. I got her to hang her story on the wall with my other favorites so she can always leave a part of her self in the studio. She's now self sufficient, no more trying every passive treatment, no more minor pain relief, just no more pain. Nick now knows why she ended up in pain and she now knows how she got her self out of it…she doesn't need me anymore 😊
---
It's been a fantastic 8 weeks working with Sarah, but today's is the day she becomes self sufficient and goes it alone. As much as I love the time I have with my clients, I have to be working my way out of their lives. Some stay for years, some stay for months and some stay for the suggested 8'weeks. However, I'm always proud of what they achieve.
Please joint me in saying well done Sarah for allyour hard work and wish her well as she embarks on her new journey, a one with out pain 😊
If you can see this post please drop a like or even comment and help me spread the message that there is many things people can do to live a better like. Competition posts can get around 700 likes, whilst success stories average around 80, please show your support 😊
The more I can get the page out there, the more useful content I can produce 😊
Hypermobile? Please check out my guide 💪🏻
Part 1- Cut the bullshit- https://bit.ly/2uxArPh
Part 2-Everything changes- https://bit.ly/2GEmocs
Part 3- Stretching the truth- https://bit.ly/2H3W3I4
——————
Sarah-
"I was diagnosed with fibromalgia and joint hypermobility end of 2017 after haven chronic pain since 2015. A friend recommended Adam to me and thought I would give it a go. 8 weeks I have trained with Adam and i can't thank him enough . I have no pain. My fatigue has soooo improved and I am so grateful how he has changed the way I think. I have also met a friend for life" 💖
---
In Mandy's first message to me, she told me she was pretty muchbed riddenn at the time and hoped that the huge flare would be over soon. Mandy told me she had always had an ache in her back since being around 19yrs old and in 2009 she felt a shock of pain in her back whilst hoovering and fell to the floor. This was the beginning of everything. Doctor appts, walk ins, hospitals and eventually leading to having two discectomy's. 2 back operations, years of nocebo, a Fibro diagnosis and told to get on with it. Mandy walked through the doors as timid as a mouse, hardly able to walk without pain. We have a great 14 weeks together and slowly through education worked on how she was processing the various inputs of the world. Mandy quickly went from a shy pained woman, to a strong and formidable machine! From unable to pick up a shopping bag to flipping 120kg tyres like they were feathers. Mandy soon retuned back to work full time, joined a running club and has never looked back!
---
I've worked with a lot of children so far this year, far more than previous years and it's always infinitely more complicated than working with adults. But, despite some tears, a few workarounds and a lot of hard work, young Nadia has come on leaps and bounds!
Nadia Mum, Nicola:
"8 weeks ago, I cried as I purchased a wheelchair for my 13 year old daughter. She had gone from doing every sport under the sun, to being in constant pain and unable to climb the stairs to get to bed.
We found out she had EDS and that her lax joints would probably mean she'd need support to carry out her daily activities.
I dropped her off at school and will never forget how devastated she and I were that this was her fate.
However, I hoped that there was another way, and after doing some research, found Adam.
A round trip to Newcastle to see Adam and a three hour workshop on the 23rd of June was the starting point.
Many many tears and tantrums later, today we purchased a new bike, because my daughter no longer needs a chair. She runs, bikes, swims and dances again. She can't wait to get back to school and take part in PE.
Adam, I'll never be able to thank you enough.Family life is restored"
---
A few  weeks ago Zhoie's mother emailed :
"At 33 years old, Zohie lives the life of an elderly person, never knowing what can trigger an effect on her body from moment to moment. I honestly feel she has lost the last
10 years of her life through illness.
I'd be grateful for your help"

Walking was an impossible, taxing and painful task a few weeks ago for Zhoie and being hyper-mobile made things worst. This picture is from when we went for a mini run last week,
without back pain and unstable joints 😊

Way to go Zhoie x😊💪🏻
---
My new client lorraine got a little too strong, too quick and Geoffrey the 120kg tyre just wasn't heavy enough🤔 Don't worry, I figured it out 😂
Lorraine :
"I first met Adam 10 weeks ago, after deciding I was going to be 50 soon, and was sick of feeling old and decrepit. I have always been hypermobile and quite strong too, but after a few major surgeries and another traumatic event, was diagnosed with fibromyalgia. Like many people I was told, to do this but then not to do that, my core was weak as I had been cut through my stomach, blah blah blah…
Eventually I was told by a senior specialist physio I would have an uphill battle for life, as I needed to decrease mobility for the hypermobility, yet increase it for the fibro……. Yeah right…so how do I do that; 'well possibly walking in a swimming pool?'
So after a few months of whinging and feeling sorry for myself (very unlike me) I decided to research. Before I even started I spotted a Facebook page with Adam on, and just thought I have nothing to lose….
So initial meeting….mmmh went away and thought some fairly negative and possibly unkind things, (Yes I have apologised to Adam now!)
But come on a week of cold showers and the dreaded foundation exercises……what on earth is the point of that? How the heck is that going to change me?
However, my 8 weeks are now finished on a one to one basis, and can I tell a difference? Oh yes I can. Week two I lifted Geoffrey, didn't even blink, because I believed I could. (He is a 120kg tyre, just in case you're wondering)
I can honestly say, hand on heart, how hard but how rewarding it has been. I feel encouraged, challenged and spurred on by Adam, who God help him gets an ear bashing, thumped in the leg and swore at twice a week, but the fun side, the encouragement and the belief he has in me keeps me going.
I don't feel 50 in my head, so having a body that feels the same can only be a bonus"
---
I don't really know what has happened in the last 6 months, but I seemed to be getting a lot more men coming through the door these days. Richard came up to Newcastle for a workshop in January and he has been one of the best people to work with remotely. Richard has literally text every day and I'm really happy with how things are progressing!
"My name is Richard Lawrence (Age 66) and for the past two years, I have been suffering from Polymyalgia which was followed by Fibromyalgia which reverted back to Polymyalgia.
Two months ago I got to the point where I had difficulty in climbing the stairs getting in and out of the car and many other normal everyday activities. This coupled with severe pain. Which was soul destroying?
After blood tests which showed high ESR and CRP levels, a rheumatologist prescribed steroids (prednisolone) through my GP and stated that exercise is a good thing to help combat the condition. But due to the pain and discomfort, it was very difficult to get the motivation and push and drive to accomplish this without professional help.
I had tried several Physiotherapists to no avail.
Trawling the internet I found Adam Foster (The Fibro Guy) and purchased the Fibromyalgia Graded Exercise Programme. I followed this with a 3 hour consultation with Adam in Newcastle which for me is a 400 mile round trip, this was invaluable. Following on from the consultation the personal exercise regime that Adam devised for me is incredible. All exercises hit the right areas but do become easier with time. He also backs this up with help and advice. I can honestly say that I have never felt so good and will continue with Adam's exercise programmes.
I can see now how the physical can affect the psychological and that can affect the social as they all feed off one another.
Good luck to Adam and long may he continue"
---
Jonny –
"Life is so different now in many different ways, physically & mentally. Before I began I'd hoped like I did every time I saw someone new or tried something else, but after years of nothing working,
I didn't expect this to be any different. When I met Adam and he didn't immediately diagnose me with something else or ignore what I had to say & instead talked to me about myself, my past, himself and others he's helped. I felt this was different. He explained the 'why' so I understood, instead of just having a name to my condition. I began to learn the why there was pain and how to overcome it. It wasn't easy, far from it! Some days I would wake up and the last thing I wanted to do was have a cold shower & exercise but I'd knuckle down get through it and feel better for it. I've had many pitfalls during my journey but Adam never put me down for them. Instead, he'd give me the kick up the ass I needed to try the week again, and succeed! I feel now even when I fail I can talk to him and not feel like I'll be pushed aside because I wasn't successful every time I try. My mindset now is a complete 180 to what it was. I'm now planning for goals I want to achieve that I would never have imagined & when I have an off week instead of beating myself up and feeling like a failure, I move on to the next week determined to do better. I've started my new year with the flu and been unable to do anything and all I can think about is when I can next exercise and have a cold shower! Adam has taught me so much but the thing that sticks with me the most is "motivation can disappear, but determination will keep you going."
---
Sam:

"I suffered from persistent pain and fatigue for a couple of years and was finally diagnosed with fibromyalgia in April 2018 being told it was "life changing". Other than medications which made me feel numb no support could be offered through medical services. At 47 I thought my life and career were over. Then a friend of my boyfriend sent me a newspaper article about the Fibro Guy and I've never looked back. The programme has been super tough but empowering and fun. I'm doing things that I never thought possible such as flipping a giant tractor tyre aka Geoffery and running something which I've not done since my 20s!! I actually feel alive again and that the future is full of possibilities. I can't wait to see what my body is capable of doing next. I was asked yesterday what has been the best thing that has happened to me in the last 12 months, the answer was easy; I met Adam the Fibro Guy who has given me back my life. He is a special person"
---
Jill-
"When I think of Adam, I think "life saver". Might sound corny but it's true. I've suffered with Fibromyalgia for 6 yrs now. Diagnosed this year and told "I have to live with it". I found Adam through a former client of his and gone from not knowing what day it is, chronic fatigue, constant migraines, severe pain …. I could go on. And now today feeling like my normal self again!! All of my symptoms which I was told I had to live with have GONE. Thank you so so much Adam. You've given me my life back ❤️"
Everyone starts this journey for a different reason. Some do it so they can be strong for their kids, some because they want to feel their old selves and some start because they can't bear another moment in pain. Regardless of the reason, my guys and girls are not cut from from a different cloth, they don't have something inside them that lets them smash results like this effortlessly.. they are just consistently self disciplined, they think critically and they question everything. They all arrive with the same mentality "what I have been told about pain and pacing doesn't work". Education is a big part of the programme and when you learn, you change.
Jill is another successful client programme coming to an end and I am going to miss her dearly. However, she is ready to go it alone now..she's got a life to live😊
---
*Steve*
"In 2008 I contracted salmonella on holiday and shortly after started experiencing excruciating pains that were not associated with any sort of injury. I became very lethargic and tired…… I thought I'd become lazy! I was always very active prior to this so this was alien to me and I turned to the NHS for help. After 2-years of prodding or poking from GP's I was finally referred to Consultant Immunologist who, after more tests, diagnosed me with ME.
The NHS then said my only treatment was CBT. I tried everything, private consultants, acupuncture, Tai Chi, Chinese medicine, Graded Exercise and to no avail, I wrote myself off. I was to be like this forever.
Then in October 2018 I was introduced to Adam, The Fibroguy!
No sympathy was offered, just straight forward, no bull advice and help. I have followed the program to the letter and from the first week I saw a huge improvement in my health both physically and mentally, I was amazed at the change as was my family, friends and colleagues.
The result is simple….. I have my life back, a life I had previously accepted I would never get back. This is not a gift that anyone can give easily but Adam won't take the credit for it, he just tells me it's just me. That's Bull Adam!!
Adam, from the bottom of my heart thank you for giving me the greatest gift anyone can, I will always be in you debt, you awesome dude!"
---
I'm going to miss this crazy one! Today was Cheryl's last day and what she has achieved over the last few weeks in nothing short of incredible. It wasn't five minutes ago I was holding her arm as she limped down steps, now I'm h
aving to move quickly to avoid a boxing glove to the face!
Thanks for always putting in a 100%, always smiling and thanks for all our laughs 😊, I'm gonna miss you Cheryl xx
————
Cheryl :
"Well in these last few weeks I no longer wake up feeling as tired as I did go ing to bed…my job is a lot easier…the kids don't laugh at me when I try to get up from the floor!! I can't remember when I last had pain so bad it made me cry and go to bed!!!! My hips no longer click…I can walk up and down stairs like a normal person and not a twisted mess…I can cycle in comfort (well as comfortable as you can on a bike) I ride my vespa, I can type with out having painful wrists…my writing is actually neat again, and best of all I had a bliddy good dance when I went out on Friday night…and I mean a really good dance. I have enjoyed every moment of it, it's been a laugh a minute and I am forever thankful. I feel like a new woman. I'm also thrilled to have completed a 15.5 mile cycle through the New Forest. Lots of uphills, some on the road…Lots off road through the grassy, muddy and sometimes gravel tracks in the forest. Best thing was…no pain! The first time I've cycled with no pain in years! It was increadable. Beautiful scenery, wild horses, sunshine, and laughter and enjoyment due to no pain. Thank you Adam for taking me on my journey from pain to no pain…forever thankful
---
Over the last 8 weeks I've had the pleasure of working with little hypermobile, 13yr old Macey.
After developing pain and struggling with hyper mobility related instability following a knee reconstruction, Macey and her Mum Travelled up to Newcastle from Redcar twice per week.
It's been an absolutely pleasure and we have had lots of giggles along the way, helping to make education and movement fun.
I'd wish Macey luck as today was her last day, but she definitely doesn't need it! I'm gonna miss you kiddo 😊💪🏻
Keep strong x
And thanks for my awesome present which is now proudly hung on the studio wall 😊
---
😊 I'm going to miss Sandra, she worked so hard these last few weeks and now has everything to show for it 😊
Sandra- "Well thats my 1 to 1 sessions over, cant believe how quickly the last 9 weeks have went past. It was nowhere near as hard or painful as i thought it was going to be and have loved every second even the days that were tough. 5 year i was out of work, on and off crutches, doped up on all sorts thinking that it was all just going to continue getting worse and now im off all medication, no crutches or aids and now im looking forward to getting back to college aswell as work. Cant believe i stalked yr page for 2 year before biting the bullet, putting off until i was in a better place or life was a little easier but life just doesnt work like that! So anyone that is just thinking about signing up waiting for what ever reason, just do it coz there will always be reasons not to do it thats just the way life is!!Really cant thank you enough for giving me my life back adam"
---
It was Beth's last session today and to say I'm proud of what she has achieved is an understatement! Pain free, no random nerve pain, nice stable joints, able to run, a strong left hook and off back to university to get on with her life! Consistent, determined and always with a smile on her face….a perfect clients and a right hoot!
I'm gonna miss you Beth! The worlds you're oyster, make it your bitch!
Beth:
"A few months ago, I felt I was trapped in the body of an 80 year old – fast forward sessions with Adam, enough swearing to turn the air blue, a little bit of whining and a lot of hard work and I finally feel like a 20 year old again"
---
Amanda –
"I first became unwell 3 years ago and was finally diagnosed with M.E, Fibromyalgia and Costochondritis. This was probably the scariest time of my life, not knowing what my future held, would I
be wheelchair bound, giving up my career after spending countless days in bed with the pain and fatigue.
Thanks to my wonderful sister Rachel Sill, she recommended 'The Fibro Guy', Adam Foster. I was apprehensive to begin with during the consultation, this was following years of listening to many stories about people never making a full recovery. I always believed this was possible, I just needed to find the right person to work with.
Adam was certainly my guy 👍. Working with him has been hard work, lots of swearing, trying not to use unforbidden word 'can't' and many many laughs. I've loved every minute of it.
Adam is an inspiration to work with and helped me regain my self belief.
I've achieved so much working with him, I'm medication free, pain free, been discharged from The Yorkshire Fatigue Clinic after 2 years, my understanding and reaction to pain is different, lost the fear of exercise and increased fitness. I cannot believe Adam had me running up and down 2 flights of stairs 8 times…. If someone had shown me this on video a year ago, I would never have believed it. I've been boxing (that was my favourite session) and I've been dancing with friends for the first time in 3 years and I'm living life again.
Driving home today was emotional, I cried tears of joy. I cannot thank you enough Adam, do you fancy moving to Redcar and keep working with me 😄.
When I first started the sessions, the thought of flipping Geoffrey was daunting…… what about the pain, how will I have the energy……. well this girl is ready for you Geoffrey…..
One last message…… up Yours M.E., Fibromyalgia and Costochondritis……. you didn't beat this one 👊🏼.
I'll miss working with you Adam xxx"
---
A few weeks ago Bev had to stop her kick boxing as it was causing too much pain in her hips, I'm happy to say she can now kick me in the hand accidentally with such force it bruises….without pain 😊 Gonna miss you Bev lol x😊
Bev:
"Cutting a long story short after a long but great recovery from Guillain-Barré syndrome 15 years Ago i ended up going down a downward spiral again to which I was referred to immunology with the suspicion of another auto immune disorder.pain,fatigue and weakness amongst a lot of other things,I was loosing my confidence and fearing the worst.i stopped doing what I loved the most and that was weight training and kickboxing.its my last session with Adam tomorrow and I want to say thanks for all the work he has done with me to change my way of thinking,to give me the confidence back that I can carry on with the things that I love and the knowledge to be able to help myself with pain ect.i could go on forever but I don't want to babble too much lol.keep up the good work you are doing Adam Foster you really can change lives 😀"
---
The first words I ever read from Sandra where those in her consultation email :
"My body feels under attack, my knees are agony and my legs are giving way, I am now unable to do little more than a gentle walk. I would appreciate any help you could give me.
I want my life back Adam"
70yr old Sandra was diagnosed with fibromyalgia 6 years ago, but here in the studio we don't do Fibromyalgia, we know Fibro doesn't cause pain because it's just a word! A word to describe a set of common symptoms. That doesn't invalidate peoples pain, it just means it's a label not a disease.
In the studio we appreciate brains create pain for many reasons, including protection, and that's what we focus on. In the last 8 weeks Sandra is out of pain, bearing weight through her knees, walking miles, almost off the pregablin and that pesky weak back perception is gone as Sandra knows how strong she is now, having flipped the 120kg tyre!
Ive got two consultations in next week to take the 2 now open client slots and even if they only worked half as hard as both Sandra and Becky have, I'd be over the moon!
Well done Sandra, In all that you do 😊 it's been a fun journey together x
---
The year in review
All in all, its been a great year. I have achieved everything I set out to this year, so my eyes are fixed solely on starting to expand "The Fibro Guy" and begin to train people up in other cities.
I just want to say a huge thank you to every one of my clients this year for making my job so enjoyable. I want to thank every single one of my past clients who continue to share and support my work and dream of a pain-free world, a world where fibromyalgia is understood as the label it is and doesn't mean that's how life has to be. Thank you to those who are directly responsible for helping others to recover when they share their recoveries. Thank you to my wonderful massage therapist Jan for helping to create a warm recovery atmosphere and massaging my clients.  A big shout out to my fiancee for her continued love,  support and ability to kick me up the arse when I want to just throw the towel in.  Thank you to jo for helping with the new studio, thank you to Lisa and Bev for being to of the best clients ever and in throwing me the greatest surprise 30ths! And a very special thank you, to my client Clara, for helping me more than she will probably ever realize when it all went a bit south from in December. For the remainder of this year, I only have the mini-recovery documentary to finish and then that's the year complete.
From The fibro guy family, Merry Christmas and a happy new year 🙂
---