As another year comes to a close, I take a trip down memory lane and revisit some of the amazing people I have worked with this year. I have a look at how much they have changed their lives, and how 2017 has been in general.  I'll take a look at the various projects I embarked on and take a look at the ups and downs of this year. This is also the second full year I have taken "The Fibro Guy " to social media. I'm still blown away by all the support and positive comments, it's truly appreciated!
2017 has been incredible, but it definitely came at a cost.  This year has been one of the most exhausting, both physically and mentally, I've had in a very long time!
This has been the year that I've finally managed to figure out a lot of things that I didn't understand. In the middle of this year, I made several changes to the way that I operate and it practically doubled the success rate with clients. I also figured out that I'd been a little too obsessed with certain things in the programme and, whilst checking my biases, I managed to move away from them, be objective and figure a lot of things out. It's because of this that you may have noticed a huge behavior shift in the demeanor of the page. I've moved away from raising awareness and I am now not concerned with raising awareness and more concerned with showing that a complete recovery is actually possible. This year (especially from August onwards) I've been steadily cranking out some solid, consistent, FULL recovery cases. Would you believe it though, the pure hatred I've had directed at me because of this, because I'm actually trying to show people that they don't have to live in pain, it's ridiculous…"We want help" yet you try to give it, they don't want to know unless it requires no effort or as long as it comes in pill form…
Coming soon I am going to post my first and last rant this year, which is mainly going to centre on this deeply flawed petition that is currently spreading hopelessness, highly inaccurate information and being what I can only call a 'nocebo' for anyone who actually wants to get better. Once that's out, the only things in this year's blogs and on the page are success stories. I'm actually going to make a conscious effort this year so that I have more photos and videos and posts. 2018 is going to be the year of autonomy for the Fibro Guy and the year that there are too many people who get better, that it cant be ignored 🙂
---
Press
Several of my clients have been in the press this year. This is fantastic as it helps to spread the message that everyone can do something to help themselves!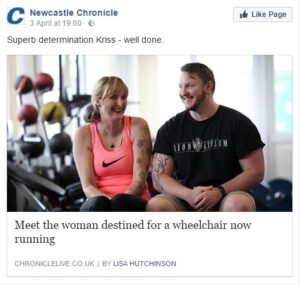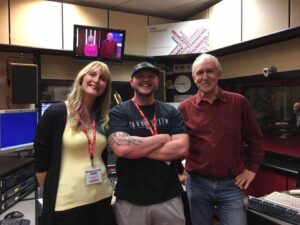 Kriss – Fibromyalgia and Ehlers-Danlos Syndrome (Hypermobility type, with vascular crossover).
I first met Kriss in March 2017, her mobility was incredibly poor and she was still struggling after her lungs had collapsed the year before. Kriss relied on a smart crutch to get around and was in a very bad place. What Kriss achieved, I could never put into words, so please watch the news piece that ITV News did on her to really do her justice— Watch here   Kris is is back to work full time and is doing just great!
Kriss was the first client  this year to be featured  in the northeast local newspaper, the Chronicle and several nationwide publications! Kriss was a pleasure to work with and like all my clients, I would like to consider her a lifelong friend. Together we even featured on the local radio and shared her story on ITV news to over 2.5 million people 🙂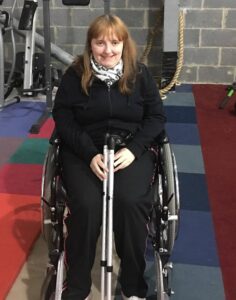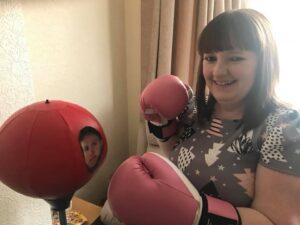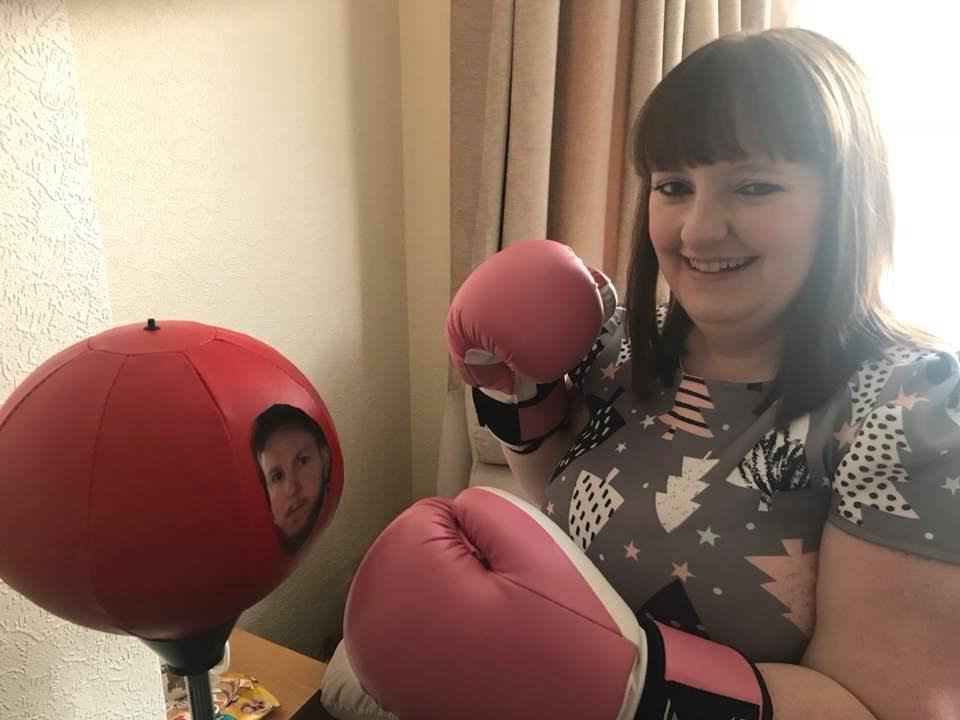 Lisa – Fibromyalgia
After a freak accident in 2014, involving a blow to the head from a falling can of hairspray, Lisa slowly began to suffer from chronic pain, loss of movement in her neck and rapidly lost her mobility, eventually ending up in a wheelchair. Lisa's progress over 5 weeks of her programme gained media attention and is truly inspirational as she went from a wheelchair to superwoman! I'm still working with Lisa and I'm looking forward to seeing what 2018 brings her, as our aims are to get Lisa driving again and returning back to work! Its been again, a pleasure to work with Lisa and I'm truly warmed at how wonderful her family has been throughout her journey. Lisa's mum, Sue, always brings me food, as she knows I don't ever get time to have a dinner break (my own mother didn't even do that lol). A lovely family, and I'm looking forward to seeing what next year brings 🙂
You can watch Lisa's video journey here.
You can read Lisa's Newspaper article here.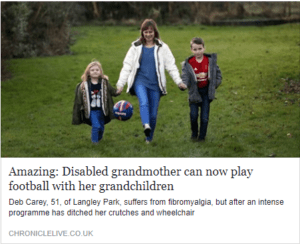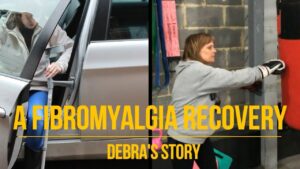 Debra – Fibromyalgia
After being diagnosed by one of the UK's top rheumatologists, 51-year-old Debs spent nearly 8 years in chronic pain along with having crushing fatigue. In October 2017, she answered my post asking for a volunteer to work with me for free and we recorded Debs full recovery from fibromyalgia as a mini-documentary, which was later picked up by the press. You can read Debs story here or you can watch her recovery here. Like every year, I always do at least one volunteer programme. It gives someone the opportunity to come and work with myself for free and it allows me to a chance to tweak anything I've been wanting to change in the programme or its delivery.  After talking to Deb for an hour, I knew how well she would do and I couldn't wait to get started on the mini-documentary. Again, another lifelong friend I'd like to think I made there 🙂
---
I've had to say goodbye to a lot of clients this year
I'm not a huge fan of the many manual therapies out there that require multiple weekly treatment sessions which end up being incredibly expensive. I have few clients that I've had for a while, others I see for a few years, others a few months and some a few weeks. Every client is different and they can stay with me along as they wish, but the long-term goal is always to allow people to go back into the world with the knowledge and the tools to keep themselves right after our sessions have finished.  There are far too many of you this year that it's just not possible to mention everyone, but I hope you all realise that each one of you brought and left little piece of yourself that made me love our sessions and time together and it remains still in the studio 🙂
---
Workshops
I thought in 2016 that I did a lot of workshops, but it came nowhere close to 2017.  I have had people from all over the country travel up to Newcastle to take part. I've even had a few travel overseas to come to the studio! I've held workshops in a lot of city's this year such as Aberdeen, Edinburgh, Manchester, Coventry, Southampton, Northampton, Cardiff, Glasgow, Canterbury, and Leeds. Workshops will always prove to be complicated as I only get 3 hours, 1:1 with people. This obviously isn't how I prefer to work as I need to tweak things as we go along, and it means that I cant apply the psychological aspects of the programme, but despite this, for those who have taken part in the workshops who strictly adhered to what I asked them to do,  they had some pretty amazing results!!
But, this year I won't be doing any more trips to cities (other than ones already booked) and I have severely cut Sunday workshops in Newcastle as this year I have a lot of projects in the pipeline and I've promised myself that ill actually going to take some weekends off this year. With so many workshops done,  I've picked one from the start of the year, one from the middle and one from the end of the year.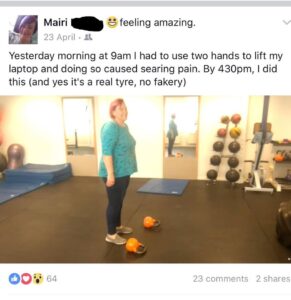 Mairi – Fibromyalgia
Mairi came down to Newcastle for a workshop in early 2017 and has done absolutely brilliant! She's not skipped a beat and has followed everything to the letter and I couldn't be prouder.
A few years ago I was very reluctant to do individual workshops as it meant I couldn't monitor people, introduce people to pain science or modify things like I can during 1:1 sessions. But, I went ahead and started them and over the years there have been some awesome results.  People generally send at minimum a text or email a week, ask questions and let me know how they are getting on. I tell each person the same thing "you have my services until you don't need them anymore" Most workshops go brilliantly like Mairi's, she's texted every week and has followed everything to the letter. It's honestly so amazing what a little bit of education on pain, changing beliefs and changing movement patterns does. Mairi is also a Psychologist and after been astounded at her own full Fibro recovery, reached out and we are now co-writing a book together. I've met up with Mairi twice this year, once when I was doing the Edinburgh workshops and last week when Mairi came down to Newcastle, so I'm looking forward to getting this book finished and having an in-depth, backed by science, book on how to recover, from not only my point of view, but Mairi's from both client and a psychologist. 🙂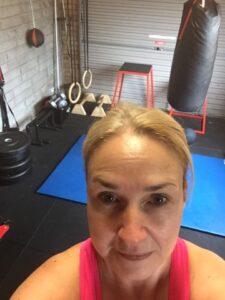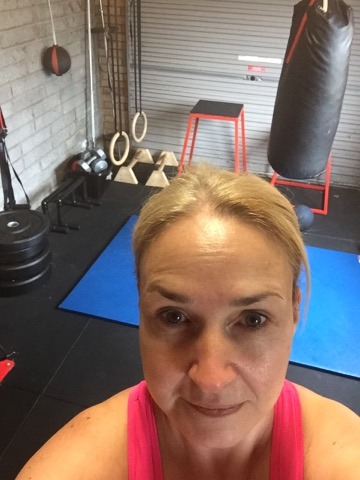 "I was first diagnosed with Fibromyalgia in the early 1990's, after about 6 years I would have said I had recovered. I lived a busy active life until the summer of 2014 when I became poorly again. I searched for 'the thing' that would fix me, going to lots of doctors, therapists and alternative therapists. When I first contacted Adam I was barely able to get up and down the stairs, could only walk short distances and was off work, again! After following The Fibro Guy on Facebook I had read about one of his clients who had gone from using a wheelchair to being able to run and I just had to get to see him. My husband and I traveled over to Newcastle from Belfast; I was panicking how I would get through the airport. As soon as I met Adam I felt so comfortable, he listened to my story and explained his. It felt amazing just to speak to someone who understood and who had been through the same problems but could offer some hope. When I left my workshop I felt lighter than air, I was walking better and had so much confidence in the programme I was about to start. After my 1st session at home I felt great and faithfully did the programme for several weeks. I had more energy and very little pain. This is where i admit I fell off the wagon! I think I got cocky as I went back to work. I forgot some of Adams lessons; of course, I was going to be tired, I was doing loads! As pain began to creep in after a couple of weeks, I did 1 'pin and press' session and the pain went. This is as all I needed; this stuff really works! I got back on the wagon and finished the last stage of the programme. I am now feeling good, back at work and maintaining physical activity a few times a week. I'm so grateful to Adam, he supported throughout the programme ready with an encouraging word or a kick up the behind! Adam has changed my life, I'd encourage anyone to give to a go. It's not easy but it is more than worth doing."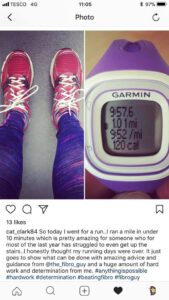 Cat- ME/CFS and Hypermobility
A huge well done to Cat!!
Cat came up to Newcastle for a workshop in November and has worked tirelessly since then. We have kept in contact while working remotely and I'm incredibly proud that things are coming together for her! Cat's gone from hardly being able to get up the stair to now back running!
I even managed to catch up with both Rebecca and Dianne (older workshops) who I mentioned in last years end of year review to see how they were doing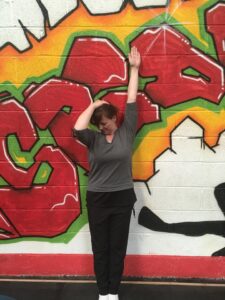 Danne – Fibromyalgia and Hypermobility
Dianne came to Newcastle for a 3 hour workshop in late 2016 and came walking into the studio on crutches. She was plagued with chronic fatigue and constant knee, back and hip pain. After 5 weeks Dianne had informed PIP to tell them of her change in circumstance after she ditched her crutches and returned back to work. But the best part of the programme, Dianne says, is that she can now walk her children to school whilst holding their hands.
Update- More than a year on Diane continues to live her life to the fullest. After climbing mount Juicc, she is now an avid walker.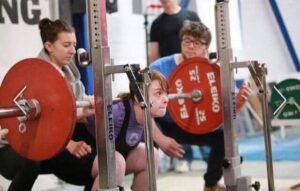 Rebecca – Fibromyalgia.
Rebecca traveled down from Scotland for a 3-hour workshop after I visited her local fibro support group to guest speak. Rebecca told
me that everything I had talked about at her group had really made her think about her condition. After years of becoming more and more frustrated with her fatigue, hip and back pain she had made the decision to come and see me at the studio. I had 3 hours face to face with Rebecca to assess her and get to know her, and she left the same day with a programme designed for her. Today, she has much more energy. Her back and hip pain has gone and she has returned back to work as an Occupational Therapist. More than 6 months on, Rebecca is an avid powerlifter!
---
Online Course
Although there is no way to replicate my 1:1 programmes for a video programme, I did, however, manage to create an in-depth, movement-based and education course.
This programme has allowed me to do what I originally wanted to do with the graded exercise DVD, which is to focus more on the poor movement patterns of those in chronic pain and introduce a huge educational element; dispelling many of the myths of posture and misalignment that stop people recovering. The online programme consists of pre-recorded instructional videos sessions which you follow twice a week, pain education and access to myself for as long as you need it on the course. Before starting the programme you will complete two weeks of foundation exercises, wherein you will learn how to pin and press, learn about pain and learn how to create descending inhibition. My aims for you whilst on the course are to achieve the following:
Create an insight and understanding into how pain is made and more importantly….why!
Disregard and overcome subconscious fears of movement.
Learn how to, and regularly, create a descending inhibition response for pain (start to turn down the pain response).
Become comfortable with movement and start to return to activities you once enjoyed.
Finish the course with less pain and fatigue, being able to commit to dates without fear of flare-ups.
Most of all, have fun and learn along the way!
You can find out more here.
---
I learned about Parsons Turner Syndrome
Alison came through doors with something I'd never even heard of before…..Parsons Turner Syndrome. Considering we both had no idea what to expect working together, but she's actually doing incredibly well!
Parsonage-Turner syndrome (PTS) is an uncommon neurological disorder characterized by rapid onset of severe pain in the shoulder and arm. This acute phase may last for a few hours to a few weeks and is followed by wasting and weakness of the muscles (amyotrophy) in the affected areas. PTS involves mainly the brachial plexus; the networks of nerves that extend from the spine through the neck, into each armpit, and down the arms. These nerves control movements and sensations in the shoulders, arms, elbows, hands, and wrists. Other nerves in the arm or even the leg can also be involved. The exact cause of PTS is unknown, but it is believed to be caused by an abnormality of the immune system (immune-mediated disorder). The severity of the disorder can vary widely from one individual to another due, in part, to the specific nerves involved. Affected individuals may recover without treatment, meaning that strength returns to the affected muscles and pain goes away. However, individuals may experience recurrent episodes. Some affected individuals may experience residual pain and potentially significant disability.
However, months down the line, Alison is actually doing incredible. We are still working on a few shoulder restrictions and other things, but she's been discharged from the Neurologist and her diaphragm is working again, she's mobile and the pain is massively down 🙂
Read about Ali here.
---
The Smiths came to visit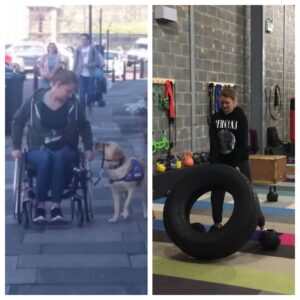 With doing this job for as long as I have, I've met and worked with a tonne of people and have made so many friends whilst doing so. But by far my favourite family is the Smiths 🙂
Whilst sat eating my dinner in between clients one day in September, I received a phone call. Now anyone who knows me will tell you the chance of me picking up are pretty slim, as I'm with people all day. However, for some unknown reason, I did. To my surprise, it was Elaine (Mrs Smith), but unfortunately, it wasn't good news. Laurens' esophagus has ceased to work properly and as a result, she had to me PEG feed and ended up losing a considerable about of weight, ended back up in the wheelchair and starting to weaken. Her shoulder and hip were both out and she had been to the hospital again for pain relief whilst professionals tried to get her hip back into place.
Elaine wanted to know what they could do to stop Laurens hip dislocating and I advised. I sent some online videos, and I hoped they would suffice. We saw a little progress, but Lauren had some problems with doing a few of the movements. This always happens online with certain movements. I can literally teach anyone how to do them pain-free, but, certain ones I feel need me there to reassure people as they have difficulty with them. I have a lot of time for Lauren and her family, they are genuinely nice people. The kind of people who would give you their last Rolo, as I like to say 🙂 I knew if I could get Lauren to the studio for 4 hours over 5 days (4 sessions), we could really see some progress. At the time, I had just had a few more people leave and go back to work so my diary wasn't as busy as it normally is. This seemed like the perfect time! I could easily squeeze 4 hours in and that's just what we did. You can read the full story and see the videos here.
---
I kept getting asked to see some behind the scenes footage
Late this year I looked through my emails and saw that a lot of people had asked to see some "behind the scenes footage" of the people on the page, as they only really got to see the before and after stuff. So, with that being asked, I came up with a plan!
In early October 2017, I asked for a volunteer to work with me for 8 weeks and to document their journey towards a full recovery from Fibromyalgia. I got what I asked for!! Debra, who was first diagnosed 6 years ago, answered my call. Over the next 8 weeks Debra kept a home video diary, we took footage in the studio and we documented Debs full Fibromyalgia recovery. This is Debra's recovery from fibromyalgia.
---
Its been a crazy, non-stop, frustrating, rewarding, admin nightmare of a year, but I wouldn't have it any other way
So with the end of 2017, comes the fresh start to do it all again, bigger, better and with more passion. 2018 is going to be the year of autonomy for the Fibro Guy, the year I expand and set up studio elsewhere and the year that there are too many success stories that it cant be ignored 🙂