Newcastle Fibromyalgia Charity Night
Well the charity night finally came around , and it was brilliant, I am happy to announce that for the Newcastle fibromyalgia support group we managed to raise a grand total of….
£1131  which is absolutely fantastic..this was my very first ever go at organising a charity event, and with a little help from Mark and Nicola it turned out to be a brilliant night.
With most people attending in fancy dress , the mood and atmosphere was instantly set, and with drag queens, comedians and singers in my variety line up night flowed brilliantly.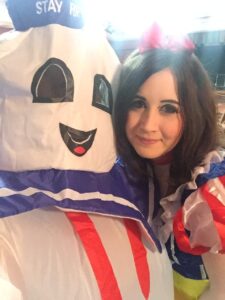 <—Mrs Fibro guy and myself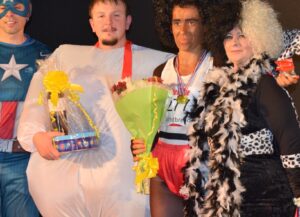 The camera crew where there to make sure we got this all on film for the documentary, and we got some brilliant footage including my self (Mr stay puft from ghostbusters ) being chased around the room by Dave dressed as a ghost buster .
All in all it was a brilliant night, we raised a lot of money and raised a lot of awareness, so I best get a move on for next year if I plan to beat last night.