I met Bridget a while back, she is a young woman who had been Rowing at an elite level for almost 7 years. She had picked up a fair few injuries due to her hypermobile joints and eventually, she could no longer push through the pain.
Rowing is a very demanding sport, it's incredibly hard on anybody, even m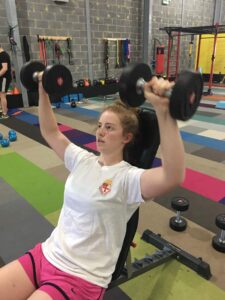 ore so for those with tissue laxity. Being such a good rower meant Bridget was rarely swapped to the other side of the boat and because of this,  she had years upon years of building tissue predominantly on one side. Bridget came in with the complaints of lower back, shoulder, joint and upper back pain. The most concerning issue though, was the fact that for most of the day her shoulder was subluxed more often than actually in the joint!
Over the next few weeks Bridget came to the studio with a smile, we talked about pain and how it's made, we became more confident in movement and we gradually exposed her tissues to more and more stress. By week 6 Bridget had managed to get rid of her joint and back pain and we spent another 6 weeks focusing on her shoulder. Over the next 6 weeks we turned down overactive shoulder blade attachment tissue and worked to re-tension the under active antagonists. On rest days we taped her shoulders (I'm not a huge fan of tape, but this method usually works) to allow the joint to heal and we retrained shoulder blade movement. Unless the shoulder had had direct trauma, you can save yourself some time by looking at the shoulder blade. There is a lot of attachments on that shoulder blade! In fact, working with hyper mobile people is more to do with neural control, than it actually is about muscle and ligaments. In fact it's been my suspicion for a few year that this is the reason most people can find results.
By the time Bridget finished, she left with her shoulders level and in their joints, she left educated and more importantly, she left with the tools to manage her body and her pain, herself.
Bridget said-
"Before seeing Adam I was in constant pain, my back was so tight I felt like I couldn't move and I was getting constant shooting pain down the back of my legs. After a few weeks the pain had almost completely gone and after the whole course my shoulder which was significantly dropped on one side causing a lot of pain had got back into a normal position, something I had been trying to achieve for years. I'm now in a position to start looking at getting back into sport which was my aim going in. Adam was very supportive and helped me progress quickly towards my goals"
The last I spoke to Bridget she had just returned from a trip to Ireland, been playing basketball and started to swim again 🙂