A Fibromyalgia Documentary: Debs
A few years back we wondered if we could film some Fibromyalgia documentaries, whilst we helped our clients get out of pain. We thought a documentary would give a good look at what goes on behind the scenes for our clients. The ideas of a documentary really got stuck in our heads, so we decided to run a volunteer programme across our sites, asking for anyone who would want to come in and work with us for free, and return is open to recording their recovery journey in the way of fibromyalgia documentaries. The first person to answer our call was Debra Carey
After being diagnosed by one of the UK's top rheumatologists, 51-year-old Debs spent nearly 8 years in chronic pain along with crushing fatigue. Debs had spent almost a decade in pain and it was only getting worse. She had resorted to using a crutch as her mobility was slowly fading away, and because of this she described herself as a house hermit, frightened to even leave the house. The less Debs did, the worse she felt, and slowly her pain started to spread into previously unpainful areas of her body. For Debs, the worse part of Fibromyalgia was that it robbed her of being able to care for and play with her grandchildren. This utterly broke Debs, as she couldn't even pick them up to cuddle or even sit them on her lap.
When the opportunity to work with us presented itself, Debs jumped at the chance and soon started her programme with hopes of being recovered by Christmas. As you can see from the Fibromyalgia documentary below, Debs did indeed get her recovery for Christmas.
We actually caught up with Debs 3 years later to see how her life was, post, Fibromyalgia, and she had started her business. You can see Debs's three years later video here.
A Double Documentary: Eve and Courtney
In 2018 Fibromyalgia sufferer Eve, and 15yr old post brain op Courtney, limped into the studio to help up with the Fibromyalgia documentaries. This year we wanted to do something different, and with the success of the last project, we decided to follow two recoveries at the same time.
After 10 years of suffering from pain and fatigue, Eve felt that now was the time for a change. When she saw our volunteer posts for someone to help with our Fibromyalgia documentaries, she wasted no time and was in the studio having a consultation within 2 days. Eve has suffered from Fibro for a very long time, and as her pain spread she was using more and more mobility aids. Eve wanted one thing and one thing only: to get off the walking stick. And by the time we had finished the  Fibromyalgia documentary, she had achieved her goal.
Having seen our earlier Fibromyalgia documentaries, young Courtney was our second volunteer. After an awkward fall in December 2016, the trauma triggered a brain condition in Courtney called Chiari malformation: a condition in which brain tissue pushes into the spinal canal, causing acute pain and long-term neurological problems.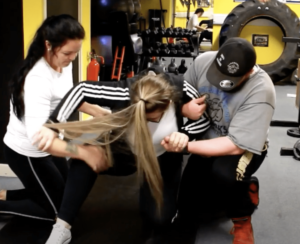 Courtney was left living in the family's dining room, unable to get upstairs, with severe weakness following her brain surgery on October 5 2017. She was left with no feeling in her feet, body weakness and eventually, her condition became so bad that she was unable to bear her own weight, despite undergoing months of physiotherapy at a specialist clinic, she was still stuck living in the family dining room as she could walk. When Courtney's Mum saw that we were again filming Fibromaylgia documentaries, she brought Courtney down for a chat and we got to work.
Just like Eve, Courtney had just one goal, to be able to ditch the wheelchair and be able to walk again. Courtney is one of our all-time favourite clients, as her recovery was incredibly difficult to facilitate and there were many ups and downs. However, throughout it all, her funny and bubbly personality had us laughing with her throughout her recovery, and it was an absolute pleasure to help her achieve her goal.
Working with Courtney on our Fibromyalgia documentaries was an absolute pleasure, and when we had a chance to catch up with her a year later, we were so happy to see her employed doing a job she loved, walking, and loving life. You can see Courtney catch up video here.