If travelling to a studio proves impossible, then there are online-only options. The online courses, whilst not the framework practitioners use, are going to be the next best option (other than a workshop) to my 1:1 programme. To use "The Fibro Guy" framework it needs to be conducted 1:1 with a practitioner. This is largely because the framework needs to be adapted based on the individual and many Biological, Psychological, and Social factors that come with the individual. This means that putting it into all into an online course is impossible, as the programme is never the same for two people.
With that being said, the online course has been designed to act as stand-alone programmes, to help educate you and to allow you and take some "key" components of the framework, and allow you at home to start pushing towards your own recovery.
The courses has seen some amazing results and we want you to achieve the very same results.  The key to this for you though is through education, consistency, belief dismantling actions, using movement as a catalyst, communication and CONSISTENCY.
Once a course has been purchased, you will be prompted to register your details, creating you a course account, and you will then have instant access to the online course. All courses are drip fed, so as you progress through it, the weeks, the weeks ahead will automatically unlock.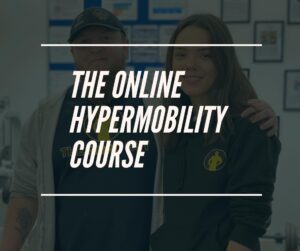 At 30 weeks long, this course covers hypermobility proprioception techniques and movements that you won't find anywhere else. Techniques designed for stabilizing joints and get rid of pain.
With a fresh nee course interface built into the website, the course is easier than ever to navigate through on your recovery journey. Included in the course are many educational videos covering everything from Neuro-tags to Autogenic inhibition. This course covers hypermobile people from the very lax and prone to dislocating, to those with slight subluxations, and to those who have only pain. This is by far the most comprehensive online course for hypermobility EVER created!
This course now acts as a completely standalone course designed by hyper mobile people who get brilliant results, for hyper mobile people that want brilliant results!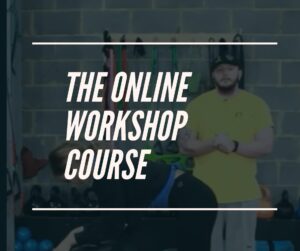 The Workshop course is a stand-alone programme for individuals who have visited a studio for a workshop programme. Once you have been through the start of your programme with your practitioner, you are granted immediate access to the workshop remote programme.
As with all programmes you will receive 24/7 support from your practitioner and the option to revisit the studio for some top-up sessions, free of charge. The remote programme boasts an impressive course interface built directly into the website, meaning you can navigate the course easily on your road to recovery.
Within the course are your online video sessions, all of your educational content and worksheets. This course is designed for people who are in pain and can get to a studio, but who live far enough away that regular 1:1 sessions would be impossible.