If you are hypermobile and unable to work with a practitioner 1:1 either online or in person, then this is a great choice for you. We created a stand-alone program from our framework for those individuals with hypermobility.
The "Online Hypermobility Course" is designed to act as a stand-alone program to help educate you and allow you to take some "key" components of our framework to start pushing towards your own recovery from pain and dislocating joints at home.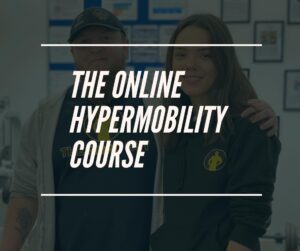 At 30 weeks long, this is an incredibly comprehensive online course designed specifically for those with Hypermobility.
Because no two people with hypermobility are ever the same, we have created this course to have many branch off points within it. Perhaps you are incredibly hypermobile and dislocating all of the time, don't worry, the course branches off into a mini-course to address these issues. Perhaps you are hypermobile, but you are also a little bit older, and as such, you are starting to lose function in various limbs, don't worry, the course branches off for these issues as well. Various branch off points will see you learning how to properly tape joints, how to utilise tactile cueing and cortical mapping to address proprioception issues, learn how to use perturbation training, and even try your hand at yoga and guided meditation.
The main course starts in your home, with only basic equipment needed, and covers joint stability movements and techniques that you won't find anywhere else! And once you are feeling stable and your pain has come down, the course then splits in two.
The first split is designed for those who really want to get into a commercial gym, fully stabilise those joints, and really take their body to the next level of stability. This branch covers a full Gym induction, we show you how to use all of the equipment, how you need to be training in the gym when you are hypermobile, and more importantly how to create your own programme, so that you can walk into that gym confident, competent, and knowing exactly what you need to be doing in there.
The second main branch off point is designed for those who are perhaps a little bit shy when it comes to the Gym. If this is you, then the course takes you through our "Hierarchy of Hypermobility Training", wherein we teach you exactly what you need to be focusing on to maintain your results from the course, how to push yourself further in your training safely, and without relapsing yourself. Most importantly though, this part of the course shows you how to become self-sufficient, so that you know exactly what it is you need to be doing with your body.
With a fresh new course interface built into the website, the course is easier than ever to navigate through on your recovery journey from pain and unstable joints, and included in the course are many educational videos covering everything from Neuro-tags to Autogenic inhibition. This course covers hypermobile people from the very lax and prone to dislocating, to those with slight subluxations, and to those who have only pain. This is by far the most comprehensive online course for hypermobility EVER created!
This course now acts as a completely standalone course designed by hypermobile people who get brilliant results, for hypermobile people that want brilliant results!
We know how scary and daunting something like this can be for people, that why we are also on hand for you throughout the entire course! All you have to do is give us a call, whenever you need some help, or just to tell us how well you're doing 🙂