We help those in pain regain the lives they thought they had lost.
Many treatments that claim to get you pain-free never live up to that promise. Sometimes these very same treatments end up working for people that you know and can leave you confused as to why they didn't work for you.
With our framework, we teach you how to understand why this happens, and how to change the variables behind chronic pain, ensuring you get the pain free life you deserve.
OUR TEAM WORKS WITH THOSE WITH CHRONIC PAIN AND HYPERMOBILITY SYNDROMES
JUST TAKE A LOOK AT SOME OF OUR AMAZING SUCCESS STORIES
See the results our clients are getting that you can have too and learn what you specifically need.
We help you use our framework to find the recovery path that is unique to you, without time limits or constraints.
Enjoy life without the limits of chronic pain and make up for the time already lost.
Watch Courtney's Incredible Recovery After Brain Surgery
MEET OUR EXPERIENCED TEAM
Our Fibro Guy Team
All of our practitioners are ex-clients who now live and work pain, helping others achieve the same results.
PAST CLIENTS
Just take a look
at what our clients have to say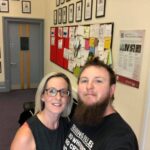 "I can't remember when I started suffering from headaches and fatigue, but it's definitely been most of my adult life. I became concerned over the years that I had so

mething seriously wrong. I went back to the GP who told me that the good news was that it wasn't anything serious because I had suffered for so long that if it was serious I would have already died!

The headaches and fatigue continued to get worse and I started to get some back pain. In 2016 I left my job as a teacher. I thought that the stress of the job was a huge factor in my headaches and fatigue. I was wrong. Although not at all stressful my new job was a lot more physical with lots of lifting and driving. I was at a point where I woke up with a headache and went to bed with a headache and had no relief in between.




When I first started seeing Adam I was talking Gabapentin, anti-depressants, homeopathic tablets, using cream and taking ridiculous amounts of paracetamol and ibuprofen. I honestly couldn't see a future. Adam has changed my life and I can't thank him enough. Because Adam and his programme I have no pain, no aching or tingling, no depression, I can concentrate and remember things, I don't suffer from fatigue and the cold no longer affects me. I have a social life again and I have been ice skating, trampolining, ridden a bike and an electric scooter, have been on a rope swing across a river and been on a zip wire. My daughter has a proper mammy now! I wish I had known about Adam many years ago."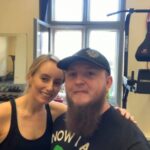 "I came across Adam and I knew there was something different about him. I watched his Facebook and the number of people with chronic pain he was helping was crazy. I eventually contacted him and went to a workshop in Edinburgh that he was doing, and started a program at home. I started to feel so much better, however, I fell off the wagon & never continued. Don't ask! Big mistake! The symptoms never fully went away & I found myself starting an exercise program with a friend who owns a gym & loving it, but I'd crash and relapse again and again, and my symptoms would keep flaring up, making me feel lost & deflated once again.

I eventually got back in touch with Adam, and I'm so grateful, and after some pleading, on my behalf, he agreed to work with me, but this time I committed to seeing him weekly in his Newcastle studio this time.

Has it been easy, em NO!! Cold showers, daily movements & changing the way my brain processes information has been almost torturous. I have spent the last 12 weeks driving from Edinburgh to Newcastle twice a week to see Adam, and that drive takes it out of you! Some days I've literally done a round trip the same day, but I would do it 100 times over as I know it would get me pain & fatigue-free like I am now "
"So when I went to see Adam my doctor had told me I should consider giving up work as my fibromyalgia flare-ups were getting worse and I was working part-time because full time was too tiring.

Meeting Adam was so scary!! Not him hehe, but just the fact I thought he really might not be able to help me. How wrong I was.

😍

.

1 year on and after religiously following the plan he gave me daily to retrain my brain ( which was a challenge) I ditched my stick, my day job, and actually set up my own business doing what I love. I am happy, I smile often, and can even run again.

If you are questioning seeing him or one of the lovely team just do it!! Don't waste any more of your life in pain and fatigued: we only get one. I can never thank you enough as I never suffer any more. Thank you."
"This was the start of the end of CFS for me. I really quickly noticed the tiredness slip away. I didn't notice before I went to see Jonny but I was also in pain. My back, neck and shoulders, in particular, were sore and stiff, and I wasn't moving very freely at all. A lot of the work Jonny did with me initially was on loosening up my body and I soon felt comfortable lying in bed on my back or stomach – it was only after I started feeling better that I realised I had been uncomfortable for some time.

About half-way through my program, the coronavirus lockdown hit, but Jonny really quickly adapted the programme and we did everything over a video call.

I'm now finished with the programme and I can honestly say it has changed my life. I have so much more energy, I don't nap anymore, I go to bed at a normal time, I walk as far as I like, as often as I like, I run and jump around with my daughter like I used to, and I've started running again.

If you're reading this and thinking about whether or not the programme is for you, my advice would be to give it a go. You'll never know until you try, and it's got to be better to do something than nothing, right? I really don't think you'll be disappointed"
"In March 2010, I became ill with a catalogue of symptoms which took me from a healthy, active outdoor pursuits fanatic, to a shell of a man in the space of just 18 months.

My legs became heavy and achy, quickly followed by aches in my back and neck. I couldn't sleep, struggled to concentrate and wondered on many occasions if there was something seriously wrong with me Following many appointments with the GP, I was diagnosed with Fibromyalgia on September 13th 2010 by a rheumatologist.

Adam gave me a no-frills approach to my fibromyalgia recovery and armed with the "fibro bible (No Pain, No Pain) I left that first visit with curiosity and trepidation. Strangely I actually felt that "lightbulb" moment when reading Adam's philosophy and seriously thought, "this guy's onto something" Fast forward several weeks later and I'm at the close of my journey with Adam and I can not speak highly enough of this guy and his program. I have more hope and positivity than l have had in years. I'm sleeping better, exercising and recovering within the normal range and no longer carrying the weight of pain, fatigue or the FIBROMYALGIA label on my shoulders. I am planning to resume career and make good the promises of camping trips and climbing with my kids And whilst my journey to recovery with Adam might be at an end, I sincerely hope to be able to share my new journey with Adam over a pint in the future!"
" At first, the pain only occupied my wrist & forearm which eventually got diagnosed as carpal tunnel/ tennis elbow. Slowly the pain began to spread and I would ache all over. I did have leg pain from around the age of 11 and I couldn't walk far and this coupled with my new pain slowly chipped away at my mobility. I went to the GP time and time again, I was bounced from one doctor to another as I know one knew what was happening to me. I had always been active, but to then not be able to get out of bed most days, that scared me to no end. After being referred to a rheumatologist, I was finally given a diagnosis of fibromyalgia & Chronic fatigue syndrome. I was relieved, I finally had an answer and knew that I wasn't losing my mind! But, this is when the cocktail of pills began, including diazepam, amitriptyline, gabapentin, codeine, tramadol, the list is endless....up to 20 pills a day I took.

I'm now PAIN-FREE, I take 0 medication now, I have energy, I walk where ever I like, for as long as I like, and I have a totally different future ahead of me now. With Adam and the teams help, I got my life back and have avoided the terrible pain-filled future that I had ahead of me. This was in no way an easy task, there was lots of information to take in, and lots to work through, but I worked consistently, I was committed and I gave it everything I had, and I earned my recovery just like Adam said I would..... Adam is my hero!"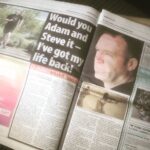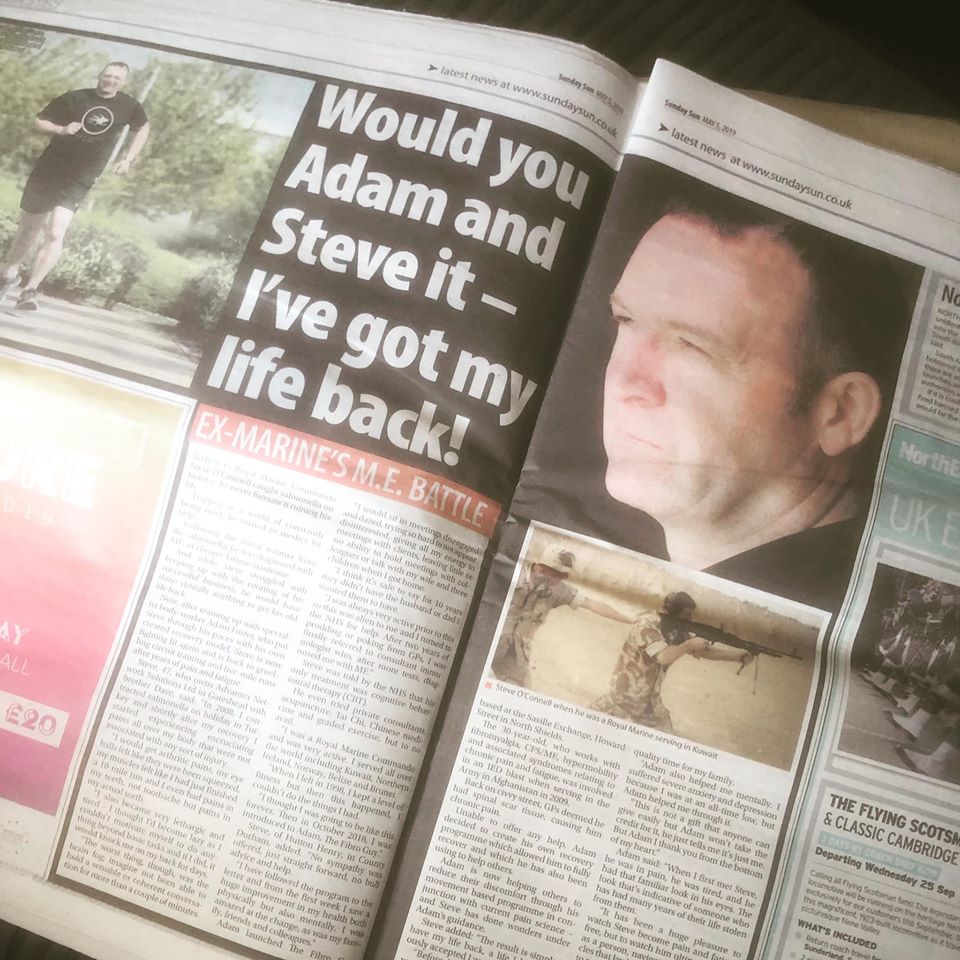 "In 2008 I contracted salmonella on holiday and shortly after started experiencing excruciating pains that were not associated with any sort of injury. I became very lethargic and tired…… I thought I'd become lazy! I was always very active prior to this so this was alien to me and I turned to the NHS for help. After 2-years of prodding or poking from GP's, I was finally referred to Consultant Immunologist who, after more tests, diagnosed me with ME. The NHS then said my only treatment was CBT. I tried everything, private consultants, acupuncture, Tai Chi, Chinese medicine, Graded Exercise and to no avail, I wrote myself off. I was to be like this forever.

Then in October 2018 I was introduced to Adam and The Fibroguy team!

No sympathy was offered, just straight forward, no bull advice and help. I have followed the program to the letter and from the first week I saw a huge improvement in my health both physically and mentally, I was amazed at the change as was my family, friends and colleagues. The result is simple….. I have my life back, a life I had previously accepted I would never get back. This is not a gift that anyone can give easily but Adam won't take the credit for it, he just tells me it's just me. That's Bull Adam!!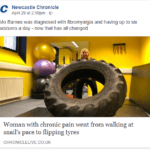 "I was told I had Fibromyalgia around 5 years ago as I was suffering from terrible pain and fatigue. I was started on medication which at first, I thought was helping,  but It wasn't.

The November following, I was diagnosed with non-epileptic attack disorder, I was taking Pregabalin for the Fibromyalgia and when the seizures started, I just thought I needed to do something about it.

Adam and the team have totally transformed my life!

I became pain-free very quickly. I came off all of my medication and soon found out it was the pregabalin causing my seizures. I have gone from having 5 to 6 seizures every day, to never having one since, 4 years later!

It is the best thing I have ever done and I can't explain how much better I feel after finally getting my life back after all those years of pain.

Thanks to the team, I am living a normal life, but to me, it feels extraordinary!
our blog
Recent Articles and News
There is always things going on at "The Fibro Guy" and you can read about them below!
Are you ready to start your journey?