We have helped create some of the most fantastic Fibromyalgia recovery stories and success stories over the last few decades, and below you can find a small sample of Fibromyalgia recovery stories, along with some amazing success stories from our hypermobility rehab programmes. Two of our favourite Fibromyalgia recovery stories are that of Debra Carey and Louise Ramshaw.
---
Recovery from Fibromyalgia: 3 years later
After being diagnosed with Fibromyalgia by one of the UK's top rheumatologists, 51-year-old Debs spent nearly 8 years in chronic pain along with crushing fatigue.  Debs had spent almost a decade in pain and things were only getting worse for her. She had resorted to using a crutch as her mobility was slowly fading away, she was spending more and more time in the house, and her social life became non existent. The less Debs did, the worse she felt, but doing more just sent her into a flare up, and Debs eventually paced her self into a box that she thought she would never get out of.
As her pain started to spread into previously unpainful areas of her body, Debs described Fibromyalgia as robbing her of being able to care for and play with her grandchildren. This utterly broke Debs, as she couldn't even pick them up to cuddle or even sit them on her lap.
In October 2017, as Deb's grandchildren were growing up fast and faster, she had enough of missing out and sitting on the sidelines. Debs started her programme with us with the goal to be recovered from Fibromyalgia by Christmas and to be able to sit on the floor and play with her grandchildren.
Debs did indeed make a full recovery from fibromyalgia, not a remission, a full recovery, and her fibromyalgia recovery is one of our favourite stories to date. After her recovery, Deb was able to hold her grandchildren without pain and her world slowly opened back up.
Free of pain, Debs even decided to take on the mammoth task of opening her own business after her Fibromyalgia recovery. Deb's recovery story still remains one of our favourite success stories to date.
Three years on from her recovery, we had the chance to catch up with Debs at the business she started all those years ago, and had the opportunity to see how Debs was living her life now that it wasn't limited by chronic pain.
Fibromyalgia recovery stories like Deborah's often gain media attention and hers was featured in her local newspaper, which you can read here.
Lousie's fibromyalgia recovery
Louise's issues first started in 2010 when she realised her busy work-life as a nurse was starting to become incrementally harder. From 2010 onwards multiple factors occurred in her life to create a perfect breeding ground for Fibromyalgia to manifest. Some of these factors included where, when Louise almost died during childbirth, when medical professionals found an aneurysm, and when she was hit by a drunk driver.
As the pain began to spread, Louise started to develop issues with her feet, namely issues with her ankles. Her Achilles tendons would restrict her movement and  It was soon after this that she started using mobility aids to move around.
Eventually, Lousie was diagnosed with Fibromyalgia and had to medically retire from the job that she loved so much.
After feeling no better when she had nerves burnt to help with her pain, Louise was told by doctors that her last resort was to surgically release her Achilles tendons and claves, with a 12 month recovery period for each leg, of which they wanted to operate on separately. When Louise heard this, she uprooted her life and moved to the Uk to seek our help, and so her programme began.
Louise was kind enough to let us record some of her Fibromyalgia recoveries, and we love to watch it back to see the changes in her at the different stages.
In Louise's first videos she seems so deflated despite making some good early improvement. However, by week 8 she is doing things that she thought she would never be able to do again, and we think this comes out so much in the videos as she seems a completely different person.
And by Louise's last video which was taken post Fibromyalgia recovery, Lousie was full of hope again, and now being able to do whatever she wanted, she could see a world of new possibilities.
Catherine's Chronic Fatigue Recovery Story
I contracted glandular fever in 2017 after a very busy and stressful time in my life. Prior to this, I was very active, happy and healthy I had just recently done my first marathon and was involved in lots of sports – which I absolutely adored and was very much a huge part of my life. I loved my life and could think of nothing nicer than a busy day out with family walking and being outdoors.
The next few years was a complete shock, my energy levels dropped substitutionally, followed by brain fog, depression and anxiety, my body failed me and in all honestly, it has been one of the most difficult times in my life. I was unable to work and felt like a completely different person. Like so many other people like me, I got diagnosed with the vague title of chronic fatigue. I tried so many different strategies and I gained relief with a few different methods but I could not seem to shift the fatigue and build the strength to be active and enjoy my life fully.
I spent my days searching for Chronic fatigue recovery stories, trying so many different things, hoping for a recovery from the pain and the fatigue. I am extremely lucky as I have wonderful family and friends who have supported me. Everything changed in such a positive way when I met Adam at The Fibro Guy, he had such conviction that I would recover and told me I would within a short space of time, which I completely trusted and believed.
One thing that I said I wanted to do when I started the program was walk my kids to school, which is a round trip of 2 miles and be well enough for my best friends wedding. At the time this seemed impossible!
I now walk my kids to school every day and sometimes have a sneaky run or bike ride straight after. This is such an amazing thing to do. I am planning my next sporting challenge and we even bought a little puppy. It's my best friend's wedding next week and I am so excited that I can be fully present and enjoy every moment without worrying that I am too tired and will I be well enough to go. I am so happy I could pop!
---
Steve's Chronic Fatigue Recovery Story
In 2008 Steve contracted salmonella on holiday and shortly after started experiencing excruciating pains that were not associated with any sort of injury. He became very lethargic and tired. Steve was always very active prior to this, so this was alien to him and he turned to the NHS for help.
After 2-years of prodding or poking from GP's, he was finally referred to a Consultant Immunologist who, after more tests, diagnosed him with ME. The NHS told steve that his only treatment was CBT.  Steve tried everything, private consultants, acupuncture, Tai Chi, Chinese medicine, Graded Exercise and to no avail, eventually, he wrote himself off, thinking he would be like this forever. Then in October 2018, Steve walked through the Newcastle Fibro Guy studio.
No sympathy was offered, just straightforward, no-bull individualized recovery help, that delved deeper than anyone had ever gone before.
Steve followed his program to the letter and from the first week saw a huge improvement in his health both physically and mentally. He was amazed at the change as was his family, friends and colleagues. The end result was simple, he had his life back.
Stevens recovery was also picked up by the local newspaper. You can read Steve's story here.
---
Sarah's Chronic Fatigue Recovery Story
We are always impressed with the amount of effort, education, and determination that our clients put into their recoveries. However, Sarah's success story holds a special place with us due to the sheer quickness of her recovery.
Sarah had struggled with pain and fatigue for longer than she cared to remember, and when she heard that a new Fibro Guy studio was coming to Edinburgh, she was one of the first clients through the door. After almost collapsing at work one day, she become bedbound for months and was told by her GP that nothing could be done after several treatment options failed. After finding us on the internet she soon booked in for a consultation and started her programme.
One of the biggest things Sarah wanted out of her programme was to regain was her independence, her ability to drive, and be able to walk out the front door without fear of being in bed for weeks. Sarah indeed got everything she had wished for and went on to be able to live her life on her terms, taking up sea swimming and kayaking!
When asked about her future, Sarah says: 'I'm really excited, I have a choice now and I've got the ability to do what I want now after my chronic fatigue recovery".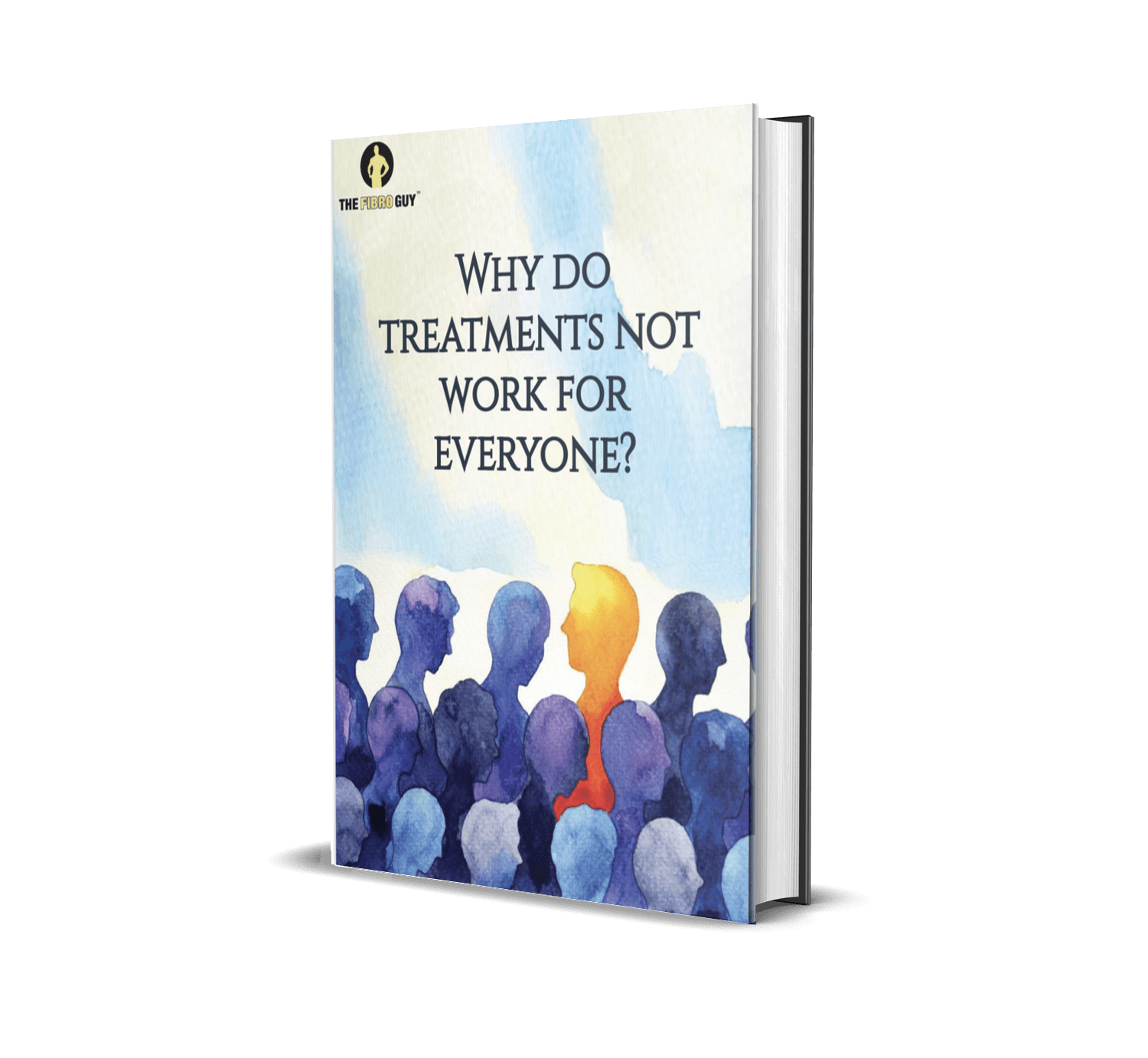 We made a free ebook to help explain one of the main reasons our framework is so effective.
Do you want to know why every treatment you have tried so far hasn't worked for you?
Do you want to know why the treatments that failed you, still work for others?
Do you want to know how our clients recover, when so many people trying other modalities don't?
If you answered yes to the above, then you will definitely want to read this!