I have had the privilege of working with some amazing people over the years, those who have worked hard with myself to create a better standard of living for themselves. Many clients, for various reason, like to stay anonymous after their programmes which is fine and perfectly understandable. However, others do not mind and hope their stories can be of inspiration to others.
You can read about some of my client's journeys below.
---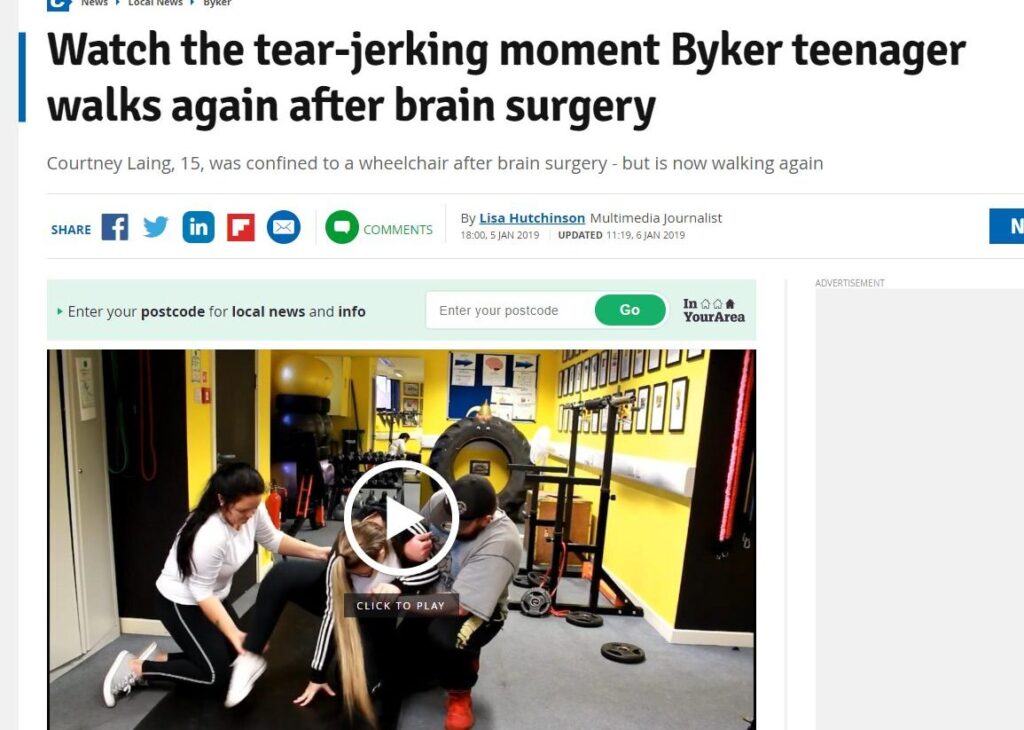 Courtney – Chiari malformation and Hypermobility
"An MRI scan revealed an awkward fall in December 2016 triggered a brain condition called Chiari malformation – a condition in which brain tissue pushes into the spinal canal, causing acute pain and long-term neurological problems. But, she was left wheelchair-bound and living in the family's dining room, unable to get upstairs, after she was left with severe weakness following brain surgery on October 5, 2017. Courtney was left with no feeling in her feet, body weakness and eventually, her condition became so acute that she was unable to bear her own weight, despite undergoing months of physiotherapy. But after teaming up with specialist body-worker Adam Foster, who put her through her paces with his own rehabilitation programme, she has ditched her wheelchair and is literally jumping for joy as she looks forward to getting back to doing what she does best as a cheerleader."
Read Courtney's article here.
---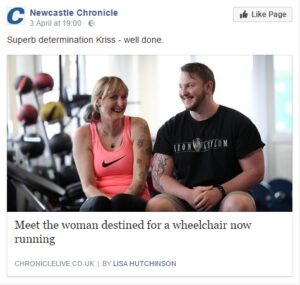 Kriss – Fibromyalgia and Ehlers-Danlos Syndrome (Hypermobility type, with vascular crossover).
I first met Kriss in March 2017, her mobility was incredibly poor and she was still struggling after her lungs had collapsed the year before. Kriss relied on a smart crutch to get around and was in a very bad place. After being told her next step was a wheelchair she got in touch. What Kriss achieved I could never put into words, so please watch the news piece that ITV News did on her to really do her justice— Watch here 
---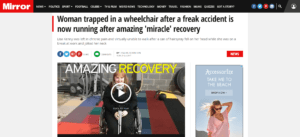 Lisa – Fibromyalgia and Hypermobility
After a freak accident in 2014, involving a blow to the head from a falling can of hairspray. Lisa slowly began to suffer from chronic pain, loss of movement in her neck and rapidly lost her mobility, eventually ending up in a wheelchair. Lisa's progress over 5 weeks of her programme gained media attention and is truly inspirational!
You can watch Lisa's video journey here.
You can read Lisa's Newspaper article here.
---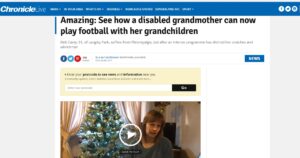 Debra – Fibromyalgia
After being diagnosed by one of the UK's top rheumatologists, 51-year-old Debs spent nearly 8 years in chronic pain along with having crushing fatigue. In October 2017 she answered a post asking for a volunteer to work with me for free and we recorded Debs full recovery from fibromyalgia as a mini-documentary, which was later picked up by the press. You can read Debs story here or you can watch her recovery here.
---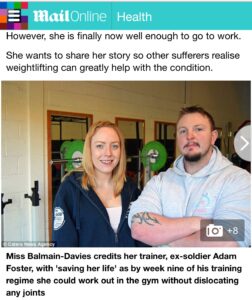 Lauren – Fibromyalgia and Ehlers-Danlos Syndrome (Hypermobility type).
In August 2015 she was dislocating/Subluxing up to 17 times a day, suffering from horrific fatigue and was in a huge amount of pain. Today she has been on three surfing holidays this year, Olympic weight lifts and keeps her joints firmly in place. The Daily Mail newspaper ran an article on her which you can find by clicking here
---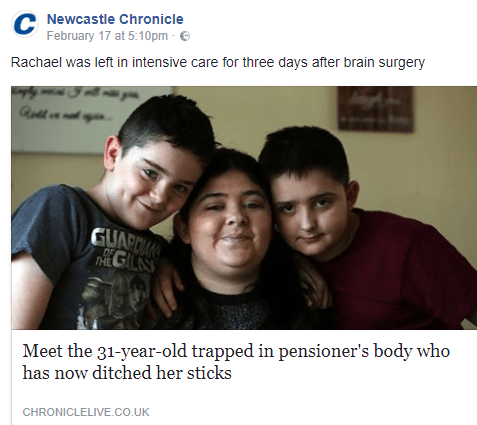 Rachael – Fibromyalgia
Rach underwent surgery for a condition known as Chari malformation around 3 years ago. Shortly afterwards she started to experience left arm pain that eventually spread to other areas of her body. Rachael soon began to develop problems with walking and eventually ended up on sticks. Things soon got worse and she became almost housebound, with two young children to care for and things soon got harder. Eventually, what happens to most people happened and she got slapped with the big ole life-limiting fibromyalgia label and left to get on with things. In 5 weeks Rach was off her Gabba drugs, off the stick and doing things she couldn't even do before the surgery.
You Can read Rachael's incredible story in the press here or you can watch her videos here.
---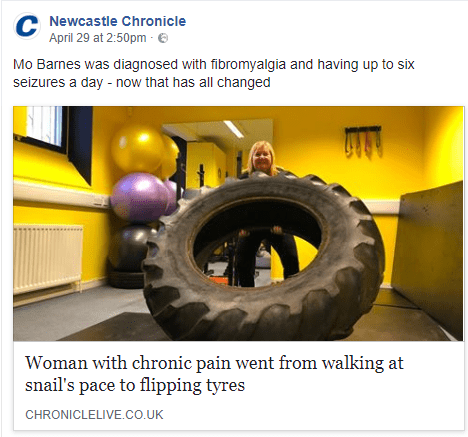 Mo- Fibromyalgia
This year has brought me some awesome new clients and one such client is Mo!
A few weeks ago Mo had attended a local Fibromyalgia support group and had been disappointed in the lack of positive action for recovery, as she felt Fibro was just a label (that's ma girl!) and this is what kick-started her to come and see me. A few weeks ago Mo couldn't bend over without pain, walk very far and felt incredibly sluggish from pregabalin. In just a few weeks she has already had the huge 105kg tyre up, taught herself boxing and set some deadlift personal bests! Amazingly, her seizures have also stopped and I'm guessing that's because she's fully off the pregabalin 
Mo- "I was told I had fibromyalgia around 5 years ago suffering from terrible pain and fatigue. I was started on medication which at first I thought was helping, last November I was diagnosed with non epileptic attack disorder I was taking pregabalin for the fibromyalgia and when the seizures started I just thought I need to do something about it. Three weeks ago I started seeing Adam and it has totally transformed my life, I am coming off the medication and I have gone from having 5 to 6 seizures every day to now not having one for 2 weeks. It is the best thing I have ever done I can't explain how much better I feel in myself and that is only after 3 weeks and now feel I am finally getting my life back thanks Adam you do a great job"
You can read Mo's press article here.
*Edit 30/07/2018*
Mo continues to no longer suffer from seizures, she is still pain and fatigue free and she soon returned back to work 🙂
---

Elysia – Hypermobile Ehlers-Danlos syndrome
This is what gets me out of bed on a morning! Seeing smiles like this as people work towards goals that people say can't be reached. I first met Elysia as part of my yearly community volunteer programme, I was looking to work with someone with long-standing mobility issues and Elysia more than met the criteria. Elysia has worked tirelessly over the last few weeks and continues to go from strength to strength, whilst also suffering from connective tissue disorder which makes t
hings notoriously more difficult. At only 14 years old Elysia has shown immense courage, self-discipline and consistency and I'm incredibly proud of her!
---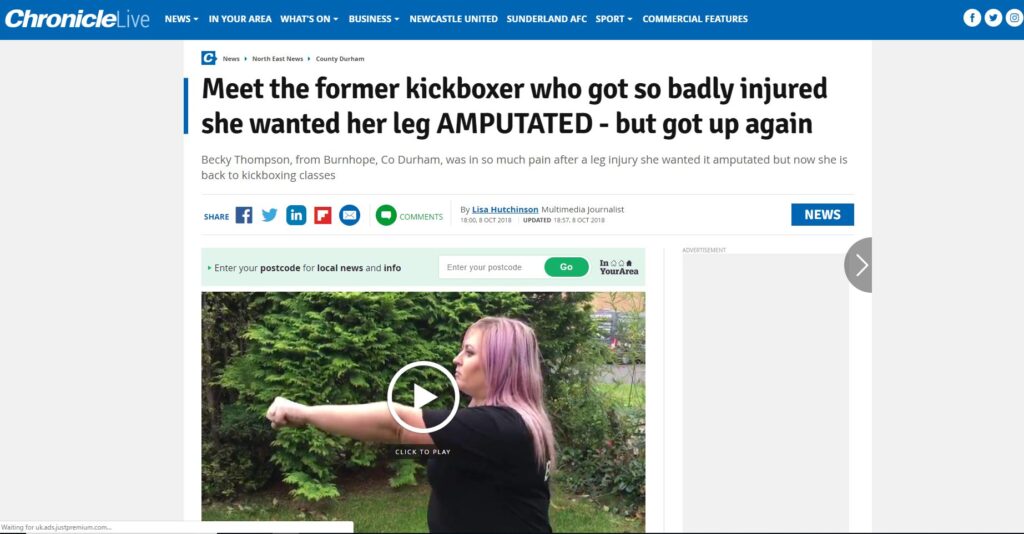 Becky – CRPS and Hypermobility
When former world champion kickboxer Becky Thompson had to ditch her sport after injuring her leg, her world fell apart. In so much pain, she even contemplated having her leg amputated as she faced a cocktail of medication and dozens of hospital visits in a bid to cope. On painkillers and undergoing lumbar injections, she was told her muscles were wasting away and to basically accept how she was. Prone to falling due to her leg not being stable, Becky was at her whits' end. And for more than four years the 30-year-old endured the pain with the next step being a spinal stimulator. But after teaming up with specialist body-worker Adam Foster, who has given her mental and physical support, she is now back to kickboxing and doing what she does best.
"It was the worst time of my life," said mum-of-two Becky, of Burnhope, County Durham. "I was in so much pain I kept saying I wanting my leg off. I even asked a doctor if I could have it amputated but he said I would still have the pain.
Read Becky's story here.
---

Dr Mairi Harper- Fibromyalgia
In 2017 Dr Mairi Harper entered the old studio to see me for a 1:1 workshop. Mairi was diagnosed with fibromyalgia in 2002 and by 2015 she was mainly wheelchair bound and unable to work. At 8am that day Mairi had struggles to lift her laptop back off the table on the train, by 5pm she (to her amazement) had flipped a 105 tractor tire without any pain. Dr harper and I worked remotely for a few weeks and Mari made a quick, full recovery.
As a psychologist, she was amazed at what a slightly scary ex-soldier with nothing more than a GCSE in art behind him had managed to create. In Mairi's own words "I needed to find out more about what had actually happened to me and how I had recovered".
In the months to follow Dr Harper and I wrote and release our joint book "No Pain, No pain" and Mairi returned back to work as a researcher.
---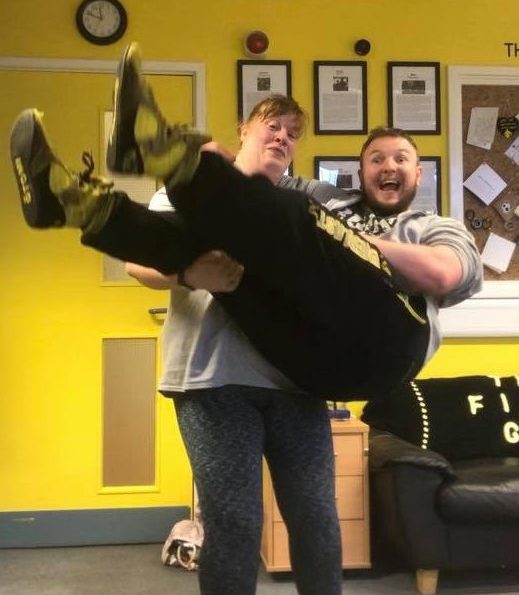 Lolly- Hypermobile Ehlers-Dannlos syndrome
Lorraine :
"I first met Adam 10 weeks ago, after deciding I was going to be 50 soon and was sick of feeling old and decrepit. I have always been hypermobile and quite strong too, but after a few major surgeries and another traumatic event, was diagnosed with fibromyalgia. Like many people I was told, to do this but then not to do that, my core was weak as I had been cut through my stomach, blah blah blah…
Eventually, I was told by a senior specialist physio I would have an uphill battle for life, as I needed to decrease mobility for the hypermobility, yet increase it for the fibro……. Yeah right…so how do I do that; 'well possibly walking in a swimming pool?'
So after a few months of whining and feeling sorry for myself (very unlike me) I decided to research. Before I even started I spotted a Facebook page with Adam on, and just thought I have nothing to lose….
So initial meeting….mmmh went away and thought some fairly negative and possibly unkind things, (Yes I have apologised to Adam now!)
But come on a week of cold showers and the dreaded foundation exercises……what on earth is the point of that? How the heck is that going to change me?
However, my 8 weeks are now finished on a one to one basis, and can I tell a difference? Oh yes I can. Week two I lifted Geoffrey, didn't even blink, because I believed I could. (He is a 120kg tyre, just in case you're wondering) I can honestly say, hand on heart, how hard but how rewarding it has been. I feel encouraged, challenged and spurred on by Adam, who God help him gets an ear bashing, thumped in the leg and swore at twice a week, but the fun side, the encouragement and the belief he has in me keeps me going. I don't feel 50 in my head, so having a body that feels the same can only be a bonus"
---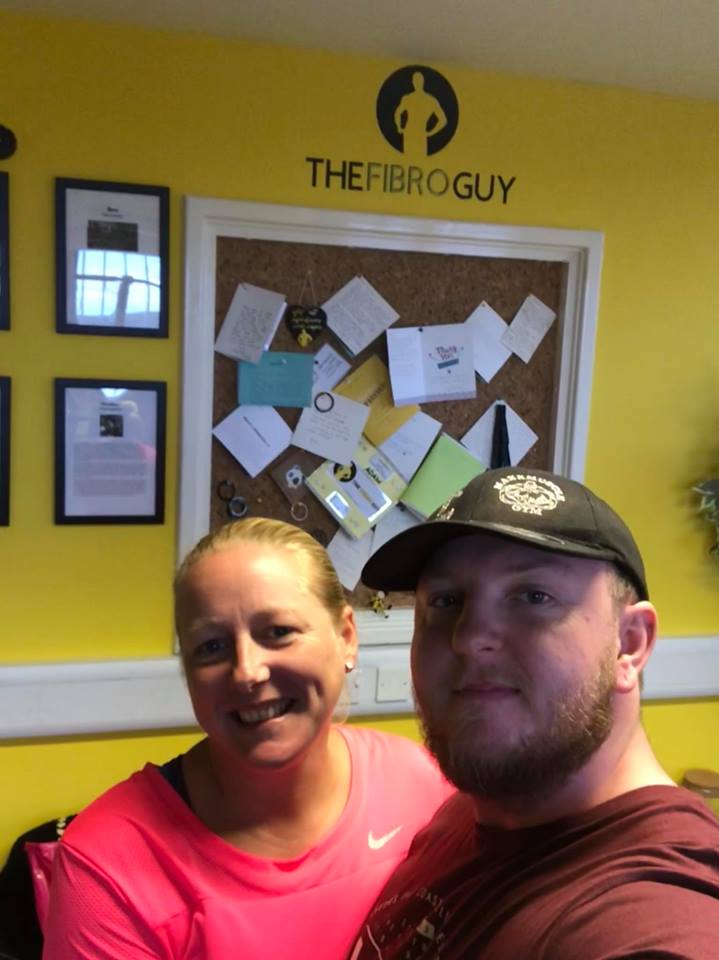 Sandra – Fibromyalgia
Sandra-
"Well that's my 1 to 1 sessions over, can't believe how quickly the last 9 weeks have gone past. It was nowhere near as hard or painful as i thought it was going to be and have loved every second even the days that were tough. 5 year i was out of work, on and off crutches, doped up on all sorts thinking that it was all just going to continue getting worse and now I'm off all medication, no crutches or aids and now im looking forward to getting back to college as well as work. Can't believe i stalked your page for 2 year before biting the bullet, putting off until i was in a better place or life was a little easier but life just doesn't work like that! So anyone that is just thinking about signing up waiting for whatever reason, just do it coz there will always be reasons not to do it thats just the way life is!!Really cant thank you enough for giving me my life back Adam"
---
From clunking hip pain to headstands lol, every so often you get a client that makes your face hurt from laughing so much during sessions and Cheryl is that client lol…super proud of you!
Cheryl :
"Well in these last few weeks I no longer wake up feeling as tired as I did go ing to bed…my job is a lot easier…the kids don't laugh at me when I try to get up from the floor!! I can't remember when I last had pain so bad it made me cry and go to bed!!!! My hips no longer click…I can walk up and down stairs like a normal person and not a twisted mess…I can cycle in comfort (well as comfortable as you can on a bike) I ride my vespa, I can type with out having painful wrists…my writing is actually neat again, and best of all I had a bliddy good dance when I went out on Friday night…and I mean a really good dance. I have enjoyed every moment of it, despite the pain, it's been a laugh a minute and I am forever thankful. I feel like a new woman"
---
Eve – Fibromyalgia
"After 10 years of fibromyalgia and chronic fatigue, I finally felt able to reach out to Adam. Previously I was in a wheelchair and then got myself onto a stick but from there, I had no idea where to go. Adam fixed that for me! He taught me that my body is strong, I am able and that I can be better! After 8 weeks with Adam, some grueling sessions, some tears and some laughter – I am like a new person and am stick-free! I have no fear now and life is just getting better and better. Thank you Adam, you have changed everything!"
Eve was actually my 2018 volunteer for  "The Xmas volunteer recovery programme" I started this initiative last year and is something I intend to keep doing every year. So, every year in the run down to Xmas, I will work with a volunteer and make a little documentary chronicling their recovery. This short documentary follows the recovery of the two volunteers for 2018 volunteer recovery programme. Follow 15 yr old Courtney from wheelchair to walking and follow 37 yr old Eve fully recover from fibromyalgia.
Watch it here.
---

Nadia – Hypermobile Ehlers-Danlos
I've worked with a lot of children so far this year, far more than previous years and it's always infinitely more complicated than working with adults. But, despite some tears, a few workarounds and a lot of hard work, young Nadia has come on leaps and bounds!
Nadia Mum, Nicola:
"8 weeks ago, I cried as I purchased a wheelchair for my 13 year old daughter. She had gone from doing every sport under the sun, to being in constant pain and unable to climb the stairs to get to bed. We found out she had EDS and that her lax joints would probably mean she'd need support to carry out her daily activities.
I dropped her off at school and will never forget how devastated she and I were that this was her fate.
However, I hoped that there was another way, and after doing some research, found Adam.
A round trip to Newcastle to see Adam and a three hour workshop on the 23rd of June was the starting point.
Many many tears and tantrums later, today we purchased a new bike, because my daughter no longer needs a chair. She runs, bikes, swims and dances again. She can't wait to get back to school and take part in PE. Adam, I'll never be able to thank you enough. Family life is restored"
---
Lynn- Japanese encephalitis enduced ME/CFS
"After having contracted Japanese encephalitis from travels in Thailand and suffering from chronic fatigue as a result for over 18 months, it was a godsend to find Adam.
His programme is tough but I'm proof that it works. Having gone from someone who was operating at a hundred miles an hour to someone who was struggling to get through a working week and spending most weekends in bed or recovering, the transformation in 9 weeks has been brilliant. I'm back to my old self and ready to embrace life again. It is truly humbling to work with someone like Adam who genuinely wants to help people to be the best they can be.
Thank You from the bottom of my heart for helping me to be me again"
---
Steve – ME/CFS
"In 2008 I contracted salmonella on holiday and shortly after started experiencing excruciating pains that were not associated with any sort of injury. I became very lethargic and tired…… I thought I'd become lazy! I was always very active prior to this so this was alien to me and I turned to the NHS for help. After 2-years of prodding or poking from GP's I was finally referred to Consultant Immunologist who, after more tests, diagnosed me with ME. The NHS then said my only treatment was CBT. I tried everything, private consultants, acupuncture, Tai Chi, Chinese medicine, Graded Exercise and to no avail, I wrote myself off. I was to be like this forever. Then in October 2018 I was introduced to Adam, The Fibroguy!
No sympathy was offered, just straightforward, no bull advice and help. I have followed the program to the letter and from the first week I saw a huge improvement in my health both physically and mentally, I was amazed at the change as was my family, friends and colleagues. The result is simple….. I have my life back, a life I had previously accepted I would never get back. This is not a gift that anyone can give easily but Adam won't take the credit for it, he just tells me it's just me. That's Bull Adam!! Adam, from the bottom of my heart thank you for giving me the greatest gift anyone can, I will always be in you debt, you awesome dude!"
---
Gill – Fibromyalgia
"In 2011 I was going back and forwards to my gp saying that my internal battery charger wasn't working, I was exhausted all the time and was in pain with the slightest activity. The GP and physio diagnosed everything from bursitis to M E . Walking was becoming increasingly difficult and my work shifts were limited to desk duties. Holiday plans were changed and the thought of a night away in a strange bed made me shudder. Then in summer 2018 my daughter heard about The Fibro Guy, I emailed him and the rest as they say is history.
From the outset Adam impressed me with his no nonsense approach and how he has turned me into an exercise loving 56 year old is nothing short of miraculous. I can honestly say I have looked forward to every session and when I finished this week my heart sank a little. My energy levels are much greater and I can walk around the metro centre shopping for hours ! Not so sure the hubby is chuffed about that 😂
Adam you have given me my life back and for that, I shall be eternally grateful"
---
Bethany – Hypermobile Ehlers-Danlos syndrome
Beth:
"A few months ago, I felt I was trapped in the body of an 80 year old – fast forward sessions with Adam, enough swearing to turn the air blue, a little bit of whining and a lot of hard work and I finally feel like a 20 year old again.  I've gone from planning my life around flare ups and spending days in bed to being able to run and flip a huge tyre.
Adam has shown me that I CAN do it and I don't need to resign myself to a life of pain, and for that I am so grateful! A few months ago, I felt I was trapped in the body of an 80 year old – fast forward sessions with Adam, enough swearing to turn the air blue, a little bit of whining and a lot of hard work and I finally feel like a 20 year old again.
I've gone from planning my life around flare ups and spending days in bed to being able to run and flip a huge tyre.
Adam has shown me that I CAN do it and I don't need to resign myself to a life of pain, and for that I am so grateful"
---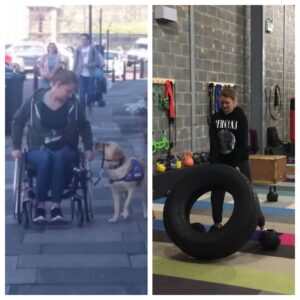 Lauren (Laurie) –  Ehlers-Danlos Syndrome (Hypermobility type).
This is one of my personal favourites! I finally got to work with an old workshop client for a whole week straight. The results from a little encouragement, a little guidance and a whole lot of effort on her part, has yielded incredible results!
Read Lauries story by clicking here.
---
Steph- ME/CFS
In 2016 I saw a woman who had suffered ME/CFS and POTS for 6 years. She made the most amazing progress from severe fatigue, pain and crutches, but was a little apprehensive about sharing her story…so it remained a story never shared.
Today, I got a message letting me know she had accepted she wasn't going to relapse, she has been working hard since we finished following the online deload programme I provided, got self-sufficient, lost a tonne of weight, was driving again after 6 years and best off all….off back to work!
So….introducing Steph 
😊
Steph had ME/POTS for 6 years and was sick and tired of being sick. She was housebound most of the time & would spend days at a time in bed using sticks & a wheelchair to get about, overwhelmed with constant fatigue & pain she needed to see if she could get well. Steph went from crutches to powerlifting and truly busted her ass day in and day out, to get the results she wanted!
Steph also has to be the sweetest person you will ever meet, so I wish her all the luck in the world with her new job. But honestly, if she can do what she has done in the studio, she can do anything
---
Zoe – Hypermobile Ehlers-Danlos syndrome
Zoe has Hypermobile Ehlers-Danlos syndrome and when she first turned up at the studio she was having a lot of trouble even being able to walk due to the pain.
*Zoe- I can barely walk most days because of the pains in my legs. I've popped my knee out of place a couple of times too. Also, I often feel like my elbows lock and have to move them a certain way to get it to stop! The pain varies on a daily basis. Most days I'm in pain but try to push through it and try not to take painkillers. Other days, I'm almost crying from the pain and have no other choice but to take something to try and ease it! And some days (very rarely) I don't get much pain at all! Its stopped me doing daily activities that a 24 year old should be able to Do and it's so frustrating! I can't walk my dog, push a pram, pick up my 1 year old nephew and even if I laugh, it causes pain and I pull something in my back! *
Over zoes time with myself,  she has really applied her self, done everything I have asked and has really started to turn her life around  The first video is of Zoe trying to stand up, but unable due to pain. The second is what Zoe now does without any pain at all!

😄
*zoe-So far I'm finding working with you to be more beneficial than I initially thought. I was sceptical (and also quite scared) that it wouldn't work or it would make the pain worse. I soon found after the first few sessions that wasnt going to be the case. The first few sessions were hard and the pain for a few days after a session was tough but manageable! It wasn't anything like the previous pain I experienced, more muscular which soon subsided. The improvement has been immense so far and I'm now able to do things I've not been able to do for a long time! Not only has it helped with the pain, it's helped me more mentally than I ever thought! Letting off steam and just generally being around you, has helped me so much!
---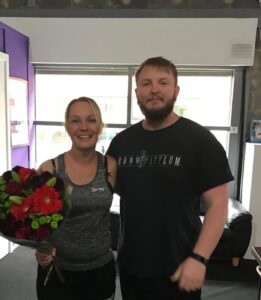 Steph-  Myalgic Encephalomyelitis
"I was recommended to Adam by a reflexologist I had visited and after looking at his blog and success stories, I felt this was the answer that I had been waiting years for.
I first fell ill seven years ago where I developed crippling fatigue, migraines, sore throats, brain fog and a lot of pain in my body overnight. At its worst, I had to crawl to move around the house as I didn't have enough energy to stand up. This continued flaring up over the years, I also had tight muscles through all of my body, which caused burning pain which kept me awake at nights. On walking, I would get out of breath and was unable to get up more than one flight of stairs without having to rest to get my breath back and for the pain in my legs to calm down. At that point, although I was positive, there wasn't any signs that I would ever get better or any other treatment planned to resolve the issues I had.
After the first week with Adam I could feel a difference and as I attended more sessions, my muscles stopped hurting, the burning sensation went and four weeks on I haven't had any episodes of fatigue, sore throats or headaches. I feel a lot stronger and like my body is working properly for the first time in years. As my body had been so exhausted, I had developed pompholyx eczema about five years ago, which meant most of the time I had difficulty using my hands and often enough not being able to use them at all for anything, including washing and eating. This has been healing over the time I have been seeing Adam, this is something that I had struggled with for years and tried everything and did not expect to happen, I am quite confident and positive that this will clear up completely in the coming few weeks. I'm so pleased that I went to see Adam and very happy with the work he has done and the support that he has given me to get my life back, its great to feel like the old me again."
---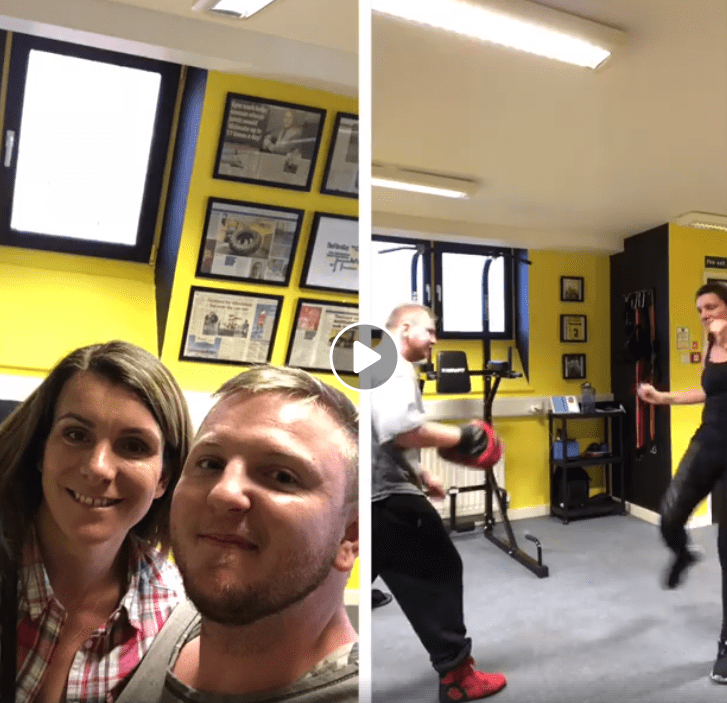 Bev-Fibromyalgia
A few weeks ago Bev had to stop her kick boxing as it was causing too much pain in her hips, I'm happy to say she can now kick me in the hand accidentally with such force it bruises….without pain 
😊 Gonna miss you Bev lol x
😊
Bev:
"Cutting a long story short, after a long but great recovery from Guillain-Barré syndrome 15 years Ago, I ended up going down a downward spiral again to which I was referred to immunology with the suspicion of another auto immune disorder. I ended up with pain, fatigue and weakness amongst a lot of other things. I was quicky losing my confidence and fearing the worst. I stopped doing what I loved the most and that was weight training and kickboxing. Its my last session with Adam tomorrow and I want to say thanks for all the work he has done with me to change my way of thinking ,to give me the confidence back that I can carry on with the things that I love and the knowledge to know that I was not broken, just dialled up in sensitivity! I am now Kickbocking without the hip pain!eable to help myself with paini could go on forever but I don't want to babble too much lol.keep up the good work you are doing Adam Foster you really can change lives 
😀"
---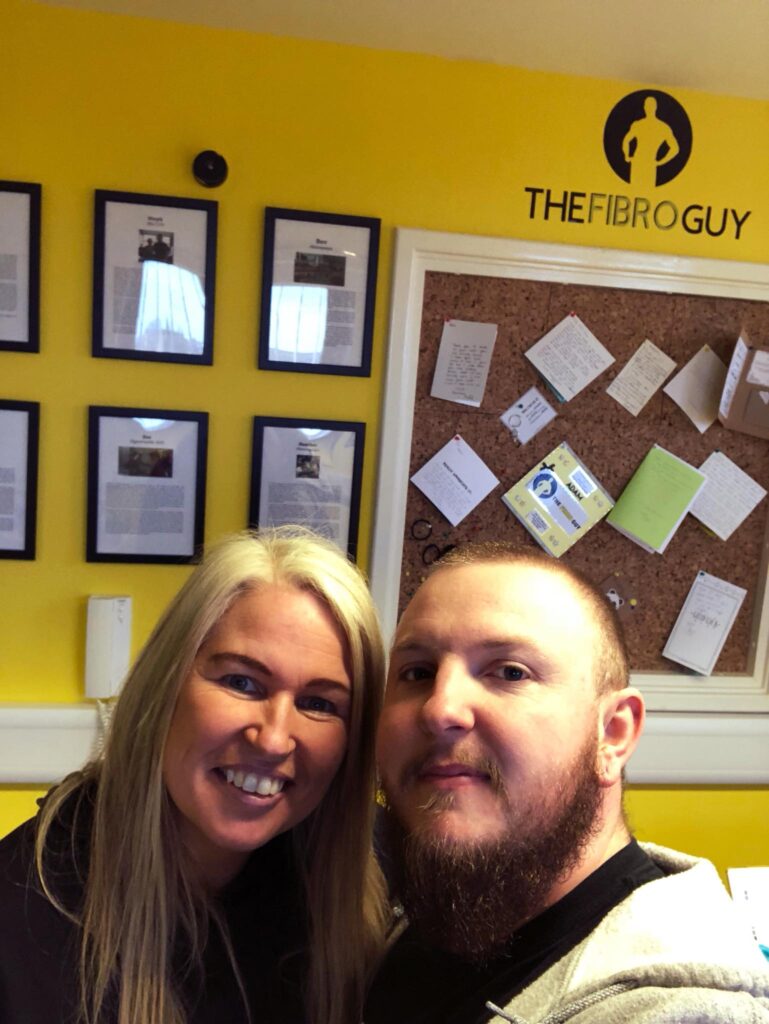 Mandy – Fibromyalgia
In Mandy's first message to me, she told me she was pretty much bedridden at the time and hoped that the huge flare would be over soon. Mandy told me she had always had an ache in her back since being around 19yrs old and in 2009 she felt a shock of pain in her back whilst hoovering and fell to the floor. This was the beginning of everything. Doctor appts, walk ins, hospitals and eventually leading to having two discectomy's. 2 back operations, years of nocebo, a Fibro diagnosis and told to get on with it. Mandy walked through the doors as timid as a mouse, hardly able to walk without pain. We have a great 14 weeks together and slowly through education worked on how she was processing the various inputs of the world. Mandy quickly went from a shy pained woman, to a strong and formidable machine! From unable to pick up a shopping bag to flipping 120kg tyres like they were feathers. Mandy soon retuned back to work full time, joined a running club and has never looked back!
---
Sandra – Fibromyalgia
Here is my instantly loveable new client Sandra (what a character!) A few weeks ago this movement would have created a massive body wide protection response and would have caused her a huge flare up in pin and fatigue. But, here she is today doing the same movement with no adverse reaction to it. Her brain receives the same information as last time, but she processes it differently now and thus gets a different output! Slipped disks, fibromyalgia, weak core, all the things you are told effect how you processing information such as lifting heavy things, that's why it's important to dismantle the old "wrong beliefs"
And create new ones….same input, different outputs. Think about it, there will be things you do today that will put you in pain, yet 20 years ago your brain received the exact same information, from the exact same things and decided Pain wasn't an adequate response to produce.
Sandra:
"So ive been seeing adam for a few weeks now (no idea exactly how long coz time flies when yr having fun 
🤪) when i met adam i was in agony mainly with my hips and knees and although i did have pain all over, they were the areas that were stopping me from doing literally anything. Fast forward to now and im completely pain free other than the odd niggle but my understanding and reaction to pain is totally different now. During my time with adam i have boxed, lifted more weight than i ever thought i would again, flipped Geoffrey and ive even ran 
😳 (yes running scared me more than Geoffrey). Im now off all meds (scary amounts of meds)and im feeling younger, fitter and stronger than, well i cant remember when. Im now looking forward to getting back to work after 5 year of being on benefits and its all thanks the wor adam the fibro guy. Really cant thank you enough"
---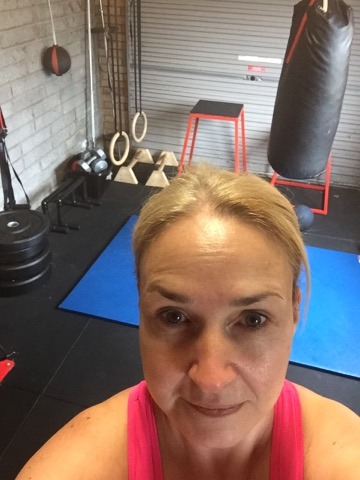 Amanda – Fibromyalgia/Hypermobility
"I was first diagnosed with Fibromyalgia in the early 1990's, after about 6 years I would have said I had recovered. I lived a busy active life until the summer of 2014 when I became poorly again. I searched for 'the thing' that would fix me, going to lots of doctors, therapists and alternative therapists. When I first contacted Adam I was barely able to get up and down the stairs, could only walk short distances and was off work, again! After following The Fibro Guy on Facebook I had read about one of his clients who had gone from using a wheelchair to being able to run and I just had to get to see him.
My husband and I travelled over to Newcastle from Belfast; I was panicking how I would get through the airport. As soon as I met Adam I felt so comfortable, he listened to my story and explained his. It felt amazing just to speak to someone who understood and who had been through the same problems but could offer some hope. When I left my workshop I felt lighter than air, I was walking better and had so much confidence in the programme I was about to start. After my 1st session at home I felt great and faithfully did the programme for several weeks. I had more energy and very little pain. This is where i admit I fell off the wagon! I think I got cocky as I went back to work. I forgot some of Adams lessons; of course, I was going to be tired, I was doing loads! As pain began to creep in after a couple of weeks, I did 1 'pin and press' session and the pain went. This is as all I needed; this stuff really works! I got back on the wagon and finished the last stage of the programme. I am now feeling good, back at work and maintaining physical activity a few times a week. I'm so grateful to Adam, he supported throughout the programme ready with an encouraging word or a kick up the behind! Adam has changed my life, I'd encourage anyone to give to a go. It's not easy but it is more than worth doing."
---
Heather- Fibromyalgia
"I was diagnosed with fibromyalgia during my last pregnancy and hadn't found anything during the 5 years that have passed that would help ease my pain and chronic fatigue so I could function "normally". I went from working 70+ hours a week, while also running a children's charity in my spare time as well as studying at uni. I had to stop working, stop the charity work and put my studies on hold.
I had refused to take the awful medication the dr wanted me to try as I believed in helping my body heal, not drugging it.
I came across Adam's Facebook page and sent an enquiry to see if my symptoms could be helped and in September this year (2017) I began my training sessions and whilst I was hoping it would eventually help I was NOT prepared for how quickly my body responded!!!
I won't lie… it's HARD… and Adam is evil 
😎

 but he clearly knows what is needed to get results and I did exactly as I was instructed and by the second week I not only had a night out 
😱

 but I had no pain despite being outside, standing around and wasn't cold! This was a very surreal experience but I expected to be in agony the following day as any sort of social event would have had me bed bound the following day. WELL the next morning I woke up pain free! It was the first morning in almost 5 years where I hadn't reached for my pain meds before even getting out of bed!!
Since then my symptoms continue to diminish, to the point where I can have a night out and not have to take medication with me, as well as doing a full day without needing any medication at all! My energy levels are back to pre fibro levels and I am able to work full time and not be in agony and can also manage my uni studies again…….
I really can't thank Adam enough for his ongoing support and he is always on hand to give me help, advise and moral support and whilst the sessions are physically and emotionally hard, we also have a laugh and I thoroughly enjoy my training and have no plans to stop attending altogether once my 8 weeks training plan is up 
🙂

"
---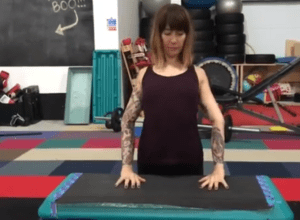 Carly – Hypermobile Ehlers-Danlos syndrome
I have just finished my 4th week with Adam. I'm 35, severely hypermobile (Beighton score 9/9) and was diagnosed with Ehlers Danlos Syndrome Type 3, ten years ago. Since then I have suffered widespread chronic joint and muscle pain, particularly in my legs, back and neck. I also suffer chronic, almost daily migraines.
I was told by a series of doctors and specialists that I would be in pain for the rest of my life and that walking especially would always cause me terrible trouble. I've been through the usual meds as well as physio, osteopathy and Pilates- all of which made me feel worse, ramming home the message that I was using my body 'wrong' and had a 'weak core' and that the 'damage was already done'. This added to my physical tension, stiffness and pain. I forgot how to move naturally. For years I've been terrified to straighten my legs properly or relax my shoulders for fear of slouching or 'hanging off my joints'. I was so conscious of being upright I came to Adam basically walking like I had a stick up my backside! I felt that my body was weak and vulnerable, unstable and ready to fall apart at any time so I was carrying a ton of tension trying to hold it all together…
Adam's teachings have been a revelation to me. Working with him really is all about re-education and I have learned so much already. It's been very empowering for me to feel that I have it within me to take back control of my condition rather than handing myself over to so-called 'experts.' The difference between them and Adam is that they simply want you to do as they say because they 'know best'- whereas Adam talks to you 'on the level'- he has been there himself so he knows the pain and the struggle. He tells you literally everything about the process, making it accessible, easy to understand and often hilarious as well!! The science behind his teachings is totally fascinating and 100% watertight. He is the first person I have approached for help who has been able to offer me something genuinely believable- and to explain in detail the workings behind it.
I have literally never met anyone as passionate and enthusiastic about what they do as Adam and his energy and enthusiasm are totally infectious! That's not to say I haven't hated him at times!! There have been moments in that gym where it has sounded like someone was actually giving birth (sorry about the swearing!) but it has been so worth it, and always ended up in lots of laughter. He has pushed me harder than I would ever have dared push myself, and helped me prove to myself that my body is strong and capable- not about to fall apart at any minute!!
After the first couple of weeks, I was able to give myself permission to slouch… to relax… to take the stick out of my backside and walk loosely and freely. Even that tiny change has had a big impact on how the whole of my body feels, getting rid of all that learned tension and fear. Adam has had me leaping about playing badminton, not worrying for a second that I was going to go over on my wobbly ankles or twist my knee.
After my third week I went on holiday for a fortnight and had the confidence to get rid of my special shoes and orthotics completely- I walked for miles every day in a pair of flip-flops and did not have so much as a single second of back, hip or knee pain of any kind- something I haven't experienced for years! I spent 17 hours on an aeroplane, cramped into a tiny seat, and hopped out at the end like nowt was the bother (meanwhile my non-hypermobile husband was groaning with pain and stiffness!)
At the end of week 3 I also had five solid days without the severe daily headache which has made my life hell for years. That is a HUGE step in the right direction. It's an ongoing process with the migraines, ups and downs, but I feel I'm gradually taking back control and when I have felt crap with it, Adam has been a great listener and helped me regain my focus and positivity again- 'Adam's Talking Therapies' 
🙂
I can't recommend this program highly enough- if you come to it with an open mind, a willingness to learn, and a commitment to stick in and keep up with the training, I believe that it absolutely will give you the tools you need to start taking back your life. THANK YOU ADAM – looking forward to the next bit…!!
---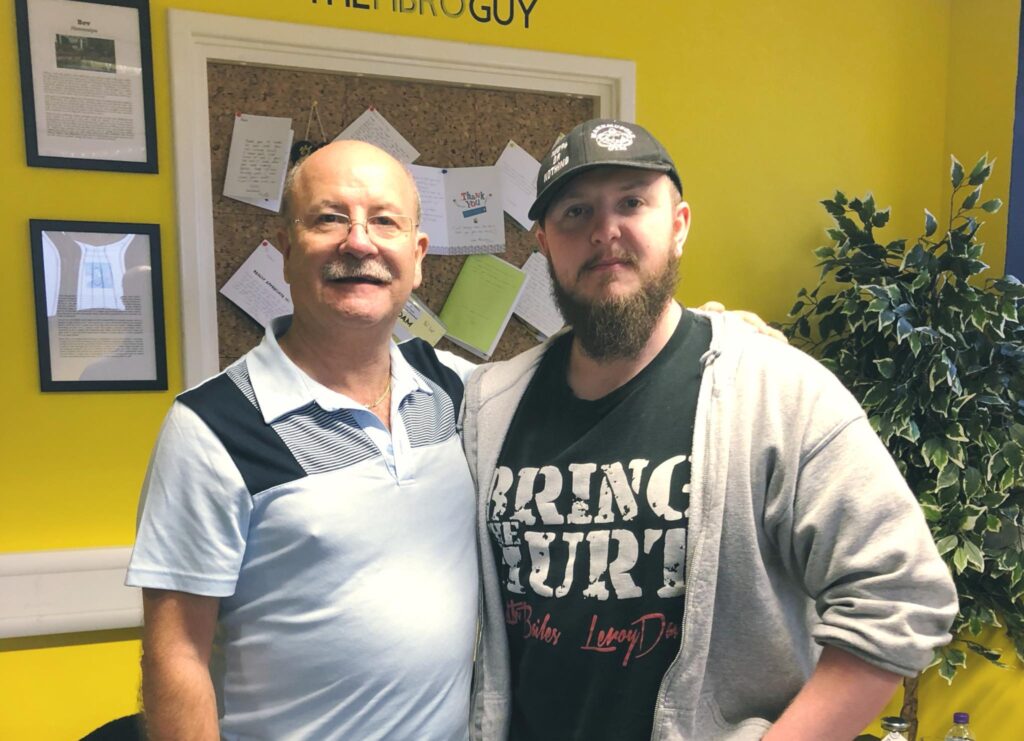 Richard – Fibromyalgia
Richard came up to Newcastle for a workshop in January and he has been one of the best people to work with remotely. Richard has literally text every day and I'm really happy with how things are progressing!
"My name is Richard Lawrence (Age 66) and for the past two years, I have been suffering from Polymyalgia which was followed by Fibromyalgia which reverted back to Polymyalgia.
Two months ago I got to the point where I had difficulty in climbing the stairs getting in and out of the car and many other normal everyday activities. This coupled with severe pain. Which was soul destroying?
After blood tests which showed high ESR and CRP levels, a rheumatologist prescribed steroids (prednisolone) through my GP and stated that exercise is a good thing to help combat the condition. But due to the pain and discomfort, it was very difficult to get the motivation and push and drive to accomplish this without professional help.
I had tried several Physiotherapists to no avail.
Trawling the internet I found Adam Foster (The Fibro Guy) and purchased the Fibromyalgia Graded Exercise Programme. I followed this with a 3 hour consultation with Adam in Newcastle which for me is a 400 mile round trip, this was invaluable. Following on from the consultation the personal exercise regime that Adam devised for me is incredible. All exercises hit the right areas but do become easier with time. He also backs this up with help and advice. I can honestly say that I have never felt so good and will continue with Adam's programme.
I can see now how the physical can affect the psychological and that can affect the social as they all feed off one another, just like Adam taught me.
Good luck to Adam and long may he continue"
---
Nicola – Fibromyalgia/Hypermobility
Nicola is one of my new hypermobile intake clients and I'm super pleased at how well she is doing 
😊
From someone who was almost afraid to move from pain, dizziness and constant fatigue, to someone who is now out running, cycling and learning to live her life again, I couldn't be happier with her progress 
💪🏻
Here is Nicola getting a little high impact work done, something which was impossible a few weeks ago
😊Nicola:
"I stumbled across Adam on the internet about 2 months ago & wondered whether he might be able help with somehow getting me more mobile & active. I've suffered from chronic fatigue & joint pains most of my 20's & 30's, the pain in my hips had got so bad that the most I could do was 15-20min walk without it kicking in, the thought of any other type of exercise went out of the window years ago. 5 weeks ago I started on Adams programme & he seemed convinced he could get me active again in around 8 weeks, I'll be honest I didn't believe this for a second but it was kind of my last shot as I had tried everything else you could imagine, so was willing to give it a shot.
Fast forward 5 weeks and I'm pretty lost for words to describe the transformation, in the space of just over a month he's got me lifting my own body weight, throwing a tractor tyre & feeling strong enough to go running, but most of all the fear of exercise and what it might do to me has completely and utterly gone, I've got enough references in my brain now to know that I'm not going back to that scary place but instead I now know this is what my body needs and I'm actually starting to crave exercise & I can't wait to see what else it's capable of. I honestly think I will look back in years to come & see this as a life-changing moment, and all in just 5 weeks!"
———-
People always get a little confused with these kinds of posts about exercise. There is no perfect way to exercise/move; movement is merely the catalyst for creating a pain free life. And, as Nicola has found out, if you slowly change how you process information, say movement causing pain, then you change whether or not you create it. 
😊
---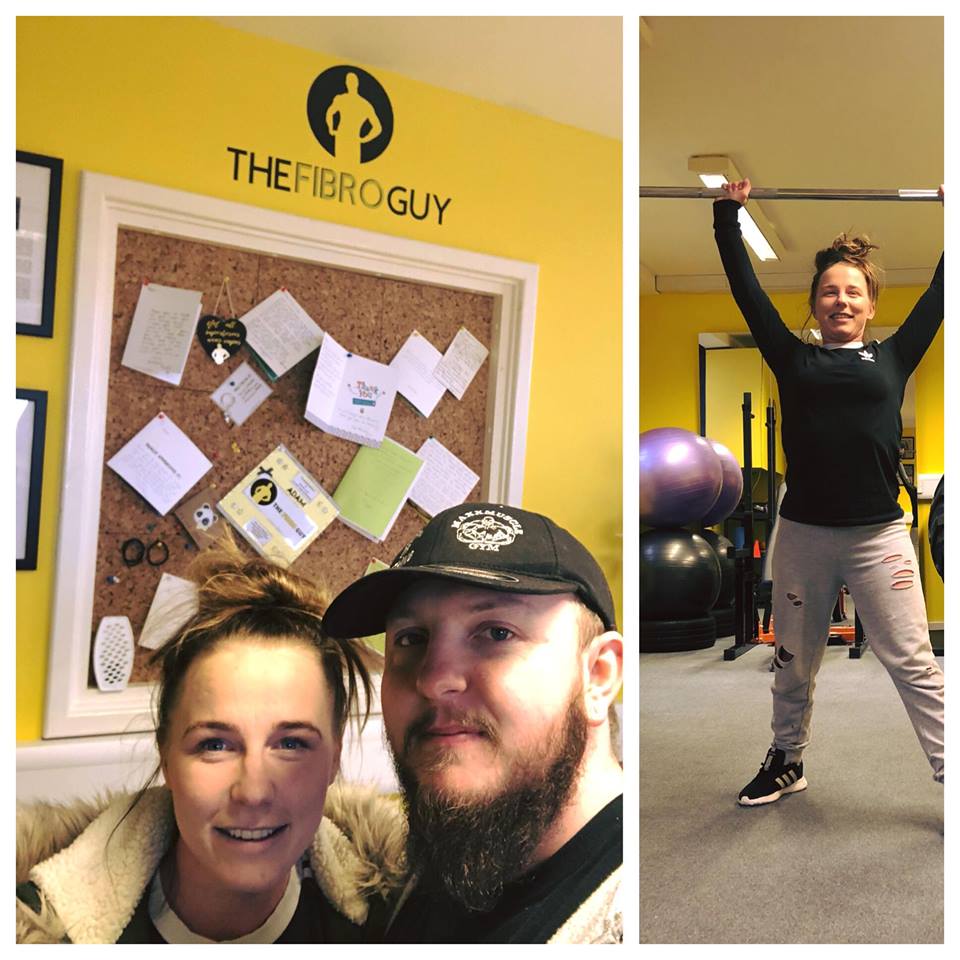 Sarah – Fibromyalgia and Joint Hypermobility
It's been a fantastic 8 weeks working with Sarah, but today's is the day she becomes self-sufficient and goes it alone. As much as I love the time I have with my clients, I have to be working my way out of their lives. Some stay for years, some stay for months and some stay for the suggested 8'weeks. However, I'm always proud of what they achieve.
Sarah – "I was diagnosed with fibromyalgia and joint hypermobility end of 2017 after haven chronic pain since 2015. A friend recommended Adam to me and thought I would give it a go. 8 weeks I have trained with Adam and i can't thank him enough. I have no pain. My fatigue has soooo improved and I am so grateful how he has changed the way I think. I have also met a friend for life
---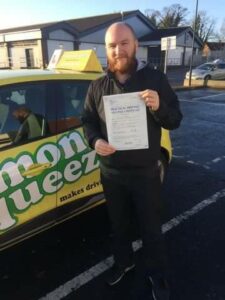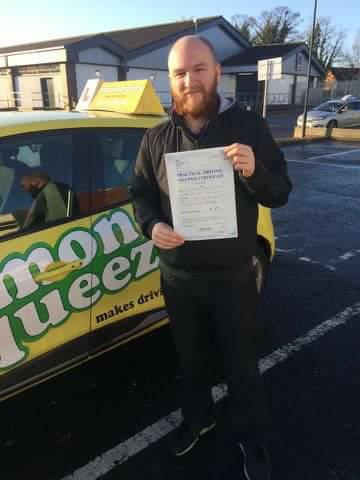 Jonny- Fibromyalgia
Jonny initially experienced pain in his wrists in July 2012, first starting in his right arm, spreading to his left. Jonny was working a retail job which required a lot of use of his hands, as well as studying computing and gaming. Over the years he started to experience other symptoms; first during a run when he felt pain in his calves and heels. When he walked he would have pain in his heels, unless he had gel insoles in his shoes. Jonny's back pain started in 2014 and was intermittent. When he used a computer for extended periods or pushed himself with anything physical, his back would begin to burn, his shoulders and neck hurt and went tight, as well as his scalp and the sides of his chest and would stay like that for a few days; longer if he didn't rest. Nerve condition studies came back with nothing wrong, and MRI of his wrists showed no damage. Jonny's doctor diagnosed Fibromyalgia.
Fast forward to January 2018 and Jonny is very different! He is having pain free days, kicked the chronic fatigue, is exercising regularly, doing social things again and my favourite.. He went out and passed his driving test 
🙂 Read more on Jonny here.
---
Sandra- Fibromyalgia
"My body feels under attack, my knees are agony and my legs are giving way, I am now unable to do little more than a gentle walk. I would appreciate any help you could give me.
I want my life back Adam"
70yr old Sandra was diagnosed with fibromyalgia 6 years ago, but here in the studio we don't do Fibromyalgia, we know Fibro doesn't cause pain because it's a just a word! A word to describe a set of common symptoms. That doesn't invalidate people pain, it just means it's a label not a disease.
In the studio, we appreciate brains create pain for protection reasons and that's what we focus on.
Since Sandra rejected the label and focused on why her brain protects her with pain, she's gone from being debilitated by pain, to flipping 120kg tyres and getting her life back!…..in 6weeks!
I actually watched a young 20 something man struggle to deadlift 140kg in the gym this morning and here is Sandra throwing Geoffrey about like a pretzel 
😂 I love my job just as much as the people I work with 
💪🏻
Edit, Sandra also had a fused ankle. Something which she forgot about completely until I spotted the scar in our third session.
---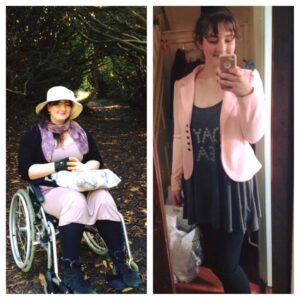 Lizzie –  Fibromyalgia and Ehlers-Danlos Syndrome (Hypermobility type).
When we first met Lizzie was on a walking stick and was relying on a wheelchair for longer ventures outside. In around 7 weeks we managed to stabilise her Lax joints enough for her to be able to run.
You can see video progress of Lizzie's journey here
---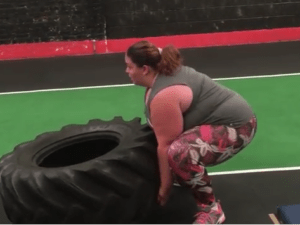 Kate –  Fibromyalgia and Ehlers-Danlos Syndrome (Hypermobility type).
Kate came through the door unable to walk without limping, she was fatigued and she was in pain. After a few weeks of pain education and carefully planned movement, Kate started to move without pain, she started walking her daughter to school and she stayed with me for over a year.  Kate went from dislocations and pain, afraid to move, to powerlifting and opening her own shop. Kate's progress can be found here
---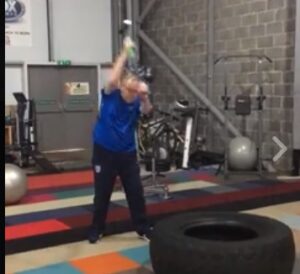 Derek –  Fibromyalgia 
Derek is 65 and hasn't had a few good years after being diagnosed with CFS/fibro last year. Brian came limping into the studio a few weeks ago, complaining of pain and fatigue. He has been on morphine for over 20 years and is on the highest dosage of Gabbapentin I've ever seen. Over the last few weeks we have worked tirelessly to the point that he now only has slight rib pain. Brian is now sleeping well, he has managed to return to some social activities like bowls and he is now moving well. Remember though, Derek smashing a tyre with a sledge hammer is the end product, not the process. We have had many a drama along the way!
You can see Derek's progress here 
---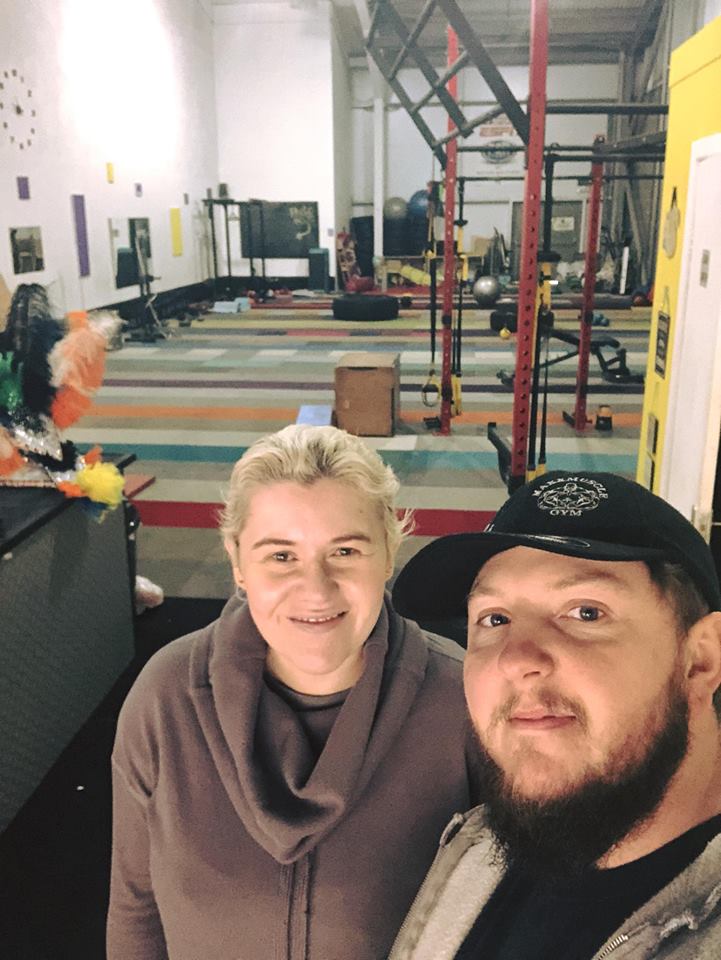 Sarah – ME/CFS
In September last year I was in Bristol doing workshops and I met some lovely people during my time there. One such person I met was 36 year old Sarah.
Whilst on the workshops I told everyone (across the uk) the same thing. You have my services as long as you need them and if you have any problems with the remote stuff, you are more than welcome to come up to Newcastle for a few days of intensive work, on the house. Now some people absolutely smash remote work, they are consistent, they get it done, they text or ring every few days and they do really well. Some people get a few weeks in, struggle and then take me up on the offer and all goes well. Workshops have always been a tough one because people in general struggle with consistency, belief in themselves and not having the 1:1 and the psychological aspects of the programme, it makes things increasingly harder. However, Sarah has done brilliantly! She is now out socialising with friends, has no pain or fatigue, she's even got her own trainer now for the gym for that extra push!
---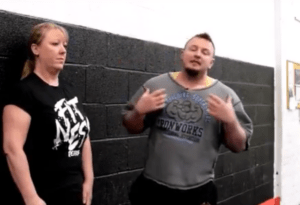 Angela –  Fibromyalgia.
Angela struggled with her job as an NHS nurse as she couldn't walk more than a few hundred meters at a time due to crippling hip and back pain. She was constantly at the Chiropractors and calling into work sick. It has now been months since she has seen a chiropractor and we managed together to eliminate ALL of her pain in only 2 months.
---
Jill-  Fibro
"When I think of Adam, I think "life saver". Might sound corny but it's true. I've suffered with Fibromyalgia for 6 yrs now. Diagnosed this year and told "I have to live with it". I found Adam through a former client of his and gone from not knowing what day it is, chronic fatigue, constant migraines, severe pain …. I could go on. And now today feeling like my normal self again!! All of my symptoms which I was told I had to live with have GONE. Thank you so so much Adam. You've given me my life back ❤️"
Everyone starts this journey for a different reason. Some do it so they can be strong for their kids, some because they want to feel their old selves and some start because they can't bear another moment in pain. Regardless of the reason, my guys and girls are not cut from from a different cloth, they don't have something inside them that lets them smash results like this effortlessly.. they are just consistently self disciplined, they think critically and they question everything. They all arrive with the same mentality "what I have been told about pain and pacing doesn't work". Education is a big part of the programme and when you learn, you change.
---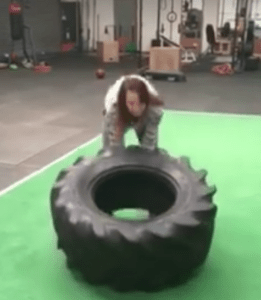 Maria –  Ehlers-Danlos Syndrome (Hypermobility type).
When I first met Maria she quickly became one of the most hypermobile people I had worked with, she had very limited shoulder function and was in a lot of mechanical and neuropathic pain. She was also only just recovering from Hashimoto's disease, she was also fully dislocating throughout the day and suffering from neck, back, hip, hand and knee pain. Today Maria is flipping tyres in the studio and on her way back to her gardening hobby.
---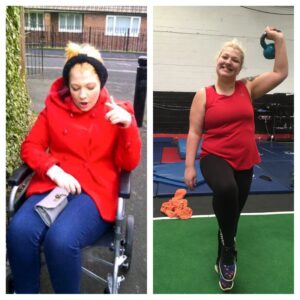 Lauren – Fibromyalgia and hypermobility.
Lauren had spent a large majority of 2014/15 in a wheelchair, she was on 45 tablets a day including Gabbapentin and antidepressants and spent half of her days sleeping. Her work suffered and she actually had her appendix removed because doctors thought her fibro pain was actually her appendix. Today Lauren has NO pain what so ever and is on no drugs. Lauren is one of my fastest success stories finishing her programme and reporting no pain in under 4 weeks.
---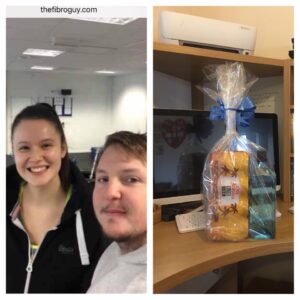 Rachael – ME/CFS
A big shout out to my client Rachael! Today is a day we have been waiting a few months for and for which she has made me incredibly proud. Today is the day she has been discharged from the Cresta clinic by her doctor, as she now no longer has any symptoms of POTS. One more appointment left for the Chronic Fatigue Syndrome and that's everything!
I currently have a young lady at the moment who is almost in exactly the same situation as Rachael started off in, so I'm very hopeful for the next few weeks
😄
Rachael also very kindly gave me a very nice gift today which I'm definitely going to enjoy tonight.  You can read more about Rachael here
---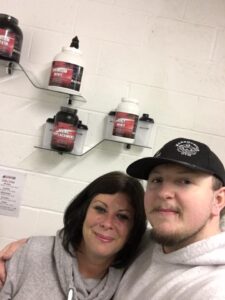 Janine –  Fibromyalgia.
Janine is by far my best referral coming all the way from Cuba. Her parents were on holiday and met current clients of mines parents. When they mentioned Janine had just moved to Newcastle and had been on the sick for 12yrs due to her Fibromyalgia they gave her parents my details.
In the few months that Janine and I worked together, reducing her fatigue and pain until eventually, she was strong enough to move back to Leeds and back to her intensive care nursing job after 12 long years.
---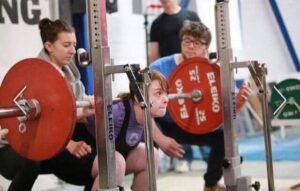 Rebecca – Fibromyalgia
Rebecca travelled down from Scotland for a 3-hour workshop after I visited her local fibro support group to guest speak. Rebecca told
me that everything I had talked about at her group had really made her think about her condition. After years of becoming more and more frustrated with her fatigue, hip and back pain she had made the decision to come and see me at the studio. I had 3 hours face to face with Rebecca to assess her and get to know her, and she left the same day with a programme designed for her. Today, she has much more energy, her back, and hip pain has gone and she has returned back to work as an Occupational Therapist. More than 6 months on Rebecca is an avid powerlifter!
---
Christine –  Fibromyalgia and Hypermobility
Christine suffered really badly from the back, hip and knee pain, she suffered from sciatica and was plagued with neuropathic pain. It had become so bad in the last few months that she decided she had enough and would try anything; so she got in touch with me. Christine has been a client very long time and now she has no pain apart from the odd neuropathic flare every now and again.
---
Bella – Chronic pain
At 72yrs old Bella is definitely one of my oldest clients. Bella was a little shy so I have changed her name and blurred her face out so she cant be identified.
Bella is actually the mother of one of my other clients, and with a knee replacement and both sides of her hips replaced, she was a real challenge. When we first started working together she couldn't lift her leg, get up or down from the floor, walk very far and she had sold her favourite car as she could no longer drive it. After a couple of months, Bella was weightlifting, going on walking trips to Edinburgh and working in a friends allotment without pain.
---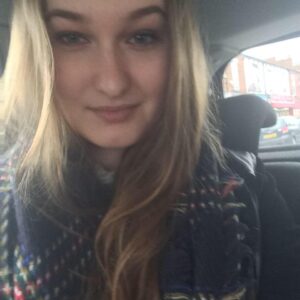 Rachael – CFS, Ehlers-Danlos syndrome and POTS
Rachael is another workshop client this time coming from Leeds. Rachael's shoulder had been Subluxed for months, her fatigue and her POTS were at their worst and with only being 19 yrs old it was really affecting her life. Rachael had seen countless specialists to no avail, but after only seeing her for 3 hours to design a programme, she started to report her POTS and CF dramatically improving within 2 weeks. A month or two later I was back in Leeds and managed to get another session with her to focus more on her shoulder. A month later it was back in place and Rachael was walking for 3 hours with her friends around a castle grounds as she had more energy than she knew what to do with.
---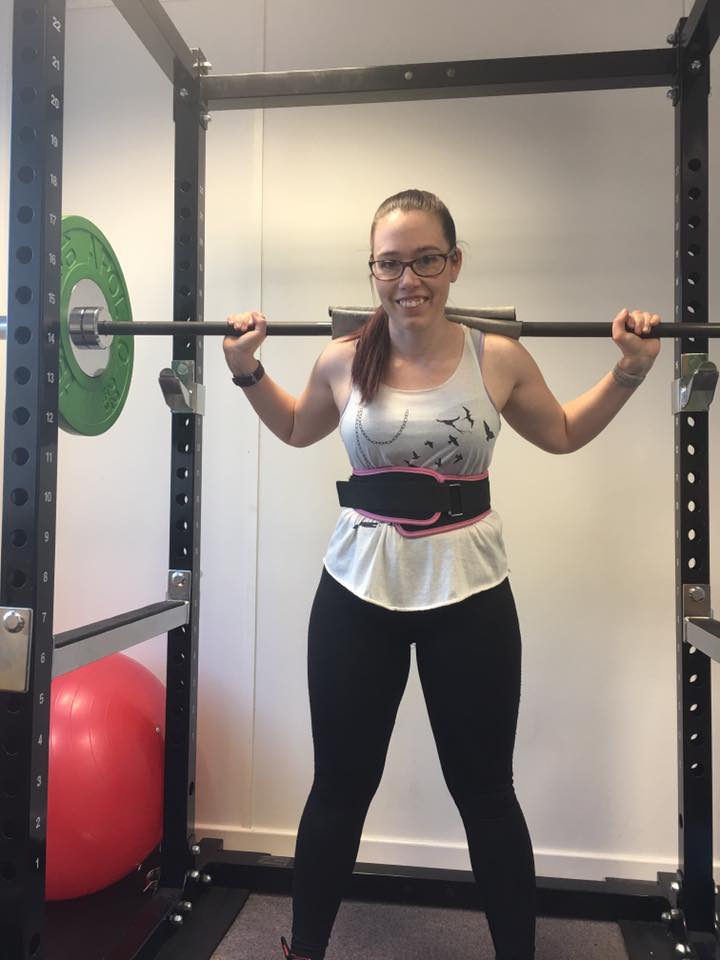 Emily –  Ehlers-Danlos syndrome
I met Emily after a problematic shoulder kept subluxing and causing her pain. Having Ehlers-Danlos syndrome, Emily's joints weren't very stable and she had a lot of the usual pain. After a few wonderful weeks, she left the studio armed with the knowledge to maintain herself and I've not seen her for some 8months! But, She later popped back in for a few weeks, as she wanted to learn to weight lift.
A lot of my EDS/hypermobility clients end up getting into weight training, bodybuilding and powerlifting. Some feel it is empowering after spending years subluxing/dislocating, some have always fancied it and some simply want to give it a go.
---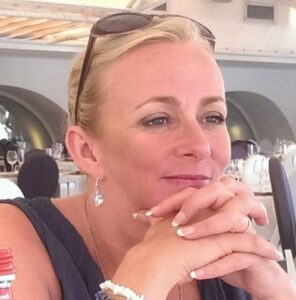 Sharon – Fibromyalgia and Hypermobility
In December 2015 I had a few ideas and tweaks I wanted to try on my then current mobility programme, and Sharon was the volunteer who helped me trial it. Sharon had been a former nurse but had to stop working on account of her hyper lax joints and Fibromyalgia. Sharon had chronic low back, hip, knee and shoulder pain, her fatigue was stopping her from getting up anything done during the day. After 6 weeks together, Sharon's fatigue had gone, her low back, hip and shoulder pain had vanished and her knees, considering the damage done to them, were slowly starting to heal. After the 6 weeks of working with me for free in return for helping me trial my new programme, Sharon became a client and I still see her two times a week….Oh, and she returned back to nursing earlier this year!
---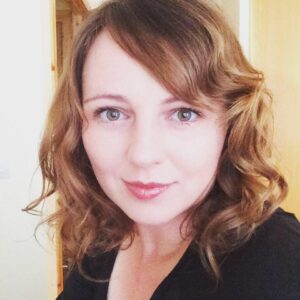 Dianne – Fibromyalgia and Hypermobility
Dianne came to Newcastle for a 3 hour workshop in late 2016 and came walking into the studio on crutches. She was plagued with chronic fatigue and constant knee, back and hip pain. After 5 weeks Dianne had informed PIP to tell them of her change in circumstance after she ditched her crutches and returned back to work. But the best part of the programme Dianne says is that she can now walk her children to school whilst holding their hands.
Update- More than a year on Diane continues to live her life to the fullest. After climbing mount juicc, she is now an avid walker.
---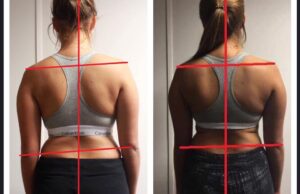 Zoe – Ehlers-Danlos syndrome
I worked with Zoe for around 4 hours in total over a two week period. Zoe had mild scoliosis, Ehlers-Danlos syndrome/hypermobility and a lot of back pain. I'm happy to report She has no back pain now. Here is what she had to say ;-
"Just have to write a huge thank you to Adam for all of his help and hard work. I have suffered from severe back pain for almost all of my life and after only 2 weeks of hard work, my spine has straightened out, my posture has improved and I woke up without any back pain at all. I only wish I had known about him earlier after so many years of doctor appointments, physio sessions, and constant pain. You're a true miracle worker!!"
---
Gayleen – Fibromyalgia
"I'm a 46 year old woman. Before I started working with Adam I had suffered from severe lower back pain for about 15 years. I was living on prescription painkillers. I was also diagnosed with fibromyalgia when I was 36. My body would ache from head to foot, particularly my hips, knees, and elbows. I struggled to walk far, limped most of the time and was in constant pain. The other thing you should know about me is that I'm a massive Disney fan, especially Mickey Mouse. For years I had been pestering my husband about going to Florida on holiday, but as he rightly pointed out, I couldn't walk very far so it wouldn't really work, and with my back, I couldn't go on any of the rides. I'm also overweight and was secretly worried that I may not have fitted in the ride seats. So in October 2016, I started working with Adam. I was very skeptical at first, especially about the tyre flipping within 6 weeks. However within a few weeks, true to his word, he had me flipping tyres. I was so proud, I've shown everyone I know the video of me flipping that tyre! As well as not being in pain, I've also lost weight and body inches since starting to work out. I had made such impressive and rapid progress with Adam that in December 2016 my husband agreed to book Florida. I've just got back from a week in Florida and I had the time of my life. Not only did I walk for 53 miles during the week, but I kept up with my 2 teenagers, I fitted on every ride, I wasn't in pain and of course I met Mickey Mouse. Not only did I feel fantastic, I also felt like a normal person, and it's been a long time since I could keep up with a normal person. I honestly didn't think I'd ever be out of pain. It may sound dramatic, but working with Adam has completely changed my life."
You can read about Gayleen's journey here.
---
Cat- ME/CFS and Hypermobility
"Sweaty finish photo! A year ago today I travelled up to Newcastle to meet @the fibro_guy not knowing how life changing it would be. After suffering with fibromyalgia and being unwell for years Adam promised he would have me running pain free within a month of seeing him and true to his word ran a mile 1 month later. Since then l've built on this..last week I smashed my goal of running 10 miles and today I ran a 10k to celebrate the anniversary and knocked 8 mins off my pb, doing my 10k in 56.28! The last year has been tough in parts and involved a lot of hard work and determination but also absolutely brilliant to have my health back. Thank you @the_fibro_guy you are truly amazing and will always be grateful to you for giving me my life back"
---
Alison – Parsons Turner Syndrome
Alison came through doors with something I'd never even heard of before…..Parsons Turner Syndrome. Considering we both had no idea what to expect working together, but she's actually doing incredibly well!
Read about Alison's journey by clicking here.
---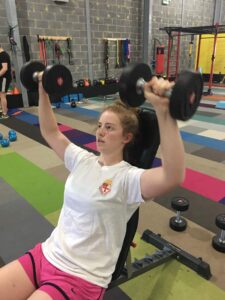 Bridget- Ehlers-Danlos Syndrome
I met Bridget a while back, she is a young woman who had been Rowing at an elite level for almost 7 years. She had picked up a fair few injuries due to her hyper mobile joints and eventually, she could no longer push through the pain. By the time Bridget finished, she left with her shoulders level and in their joints, she left educated and more importantly, she left with the tools to manage her body and her pain, herself.
Read about Bridget's journey by clicking here.
---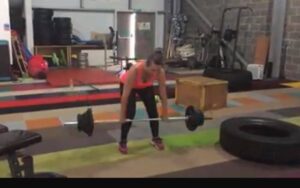 Bev- Fibromyalgia
Not long ago Bev walked through doors, she was in lots of pain, lots of fatigue and searching for the next Guru to find the simple problem that was causing her pain and to "Fix" it.
We soon drilled that mentality out of her.
Bev – When I first met Adam I was suffering from chronic lower back pain which was affecting my life in so many ways. I had to leave a job I loved when I was on the brink of promotion. Found myself withdrawing from social situations as the pain drained all of my energy. I had tried everything, chiropractor, osteopath, physio, acupuncture, bowen technique….the list goes on. I spent loads of money searching something that would help. Every time I tried something new I was full of hope that this would be the thing that would help, but time and time again I felt as if there was no hope. Just prior to meeting Adam I hit rock bottom and was suffering severe anxiety and depression as a result of the relentless pain and had lost all hope. I'm part of a group on Facebook and one of the ladies on there recommended Adam and told me he had worked wonders for her so I thought it was worth a go. At my first meeting with Adam I was frightened to bend down, wouldn't pick anything up and basically was afraid to move. From the first meeting, Adam managed to put me at ease and explained how pain worked in a way no one else I had. He started me on an exercise programme and although I was scared at first I gave it my all. I cannot believe the difference seeing Adam has made, he has built my confidence and had me doing things I never believed possible like flipping tyres and lifting weights. He makes each session fun and pushes you to realize your true ability, something which pain can take away from you. My husband and friends cannot believe the difference in me and he had helped me move forward with my life and do 'normal' things. He truly is a miracle worker!
Read about Bev's journey by clicking here.
---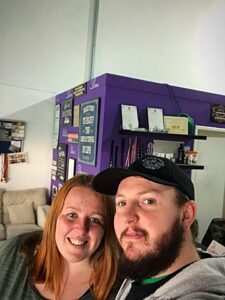 Emma- Fibromyalgia 
"Back in March 2015, I started with an awful pain in my shoulder/arm which would get worse over the years to the point so many simple tasks were unbearable due to the pain. As the years moved on, I had many appointments with specialists being passed around, told I was a mystery. I was finally put into pain management which is when I realised I wasn't getting anywhere after being told I was hypermobile and given a leaflet on Fibromyalgia. I found myself leaving appointments disheartened, in tears and being told to pace myself and accept that pain would be part of my life now. I didn't give up I had two young girls and felt I was missing so much, thankfully I came across Adam's page. I followed this for a while seeing the amazing results he was getting. Thankfully in September I was able to get a consultation and with support from my mum start my programme and wow I'm so glad I did! I've gone from struggling to walk when getting out of bed to getting up pain free. I found stretching,washing up the simplest tasks would cause agony even cuddles from my daughters to being able to flip huge tyres, lifting weights and most importantly having fun with my kids. I have left each session feeling stronger in myself uplifted and half the time slightly amazed at what I have achieved with Adams help and support. It's tough, it's a big change in routine but it's so worth it. I've had many highs and lows along the way following the programme but I've kept to it throughout and done exactly as asked to get to this point. Even when simple tasks at the start had me close to tears in pure frustration, Adam would always be reassuring and supportive. Adam knows how to get results and works with you on a personal level; listening and modifying where needed to suit you. He has pushed me further than I ever thought I could manage. I'm sad to be leaving but the hard work doesn't stop here and I know I have the ongoing support from Adam. His passion, knowledge and attitude to the whole process really does make it such a great experience I can't thank Adam enough for the difference in me. 
🙂"
---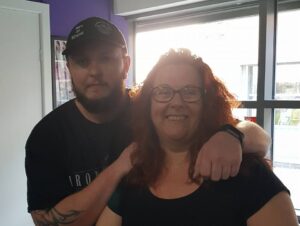 Claire- Fibromyalgia
"Would like to say a huge thanks to Adam Foster. Not only did he get my muscles and joints moving again, he also built up my confidence. I may have told him he was awful and rotten at times (I think I was always polite when I did 
😉) but he took it well and pushed me more. We've had some giggles, I've nearly face planted the floor many times, I may have cried secretly and wondered what the hell I was doing but it was all for a good cause – getting some life back. It was my last session with him today-i stayed abit longer than I thought but it was worth it. The hard work hasn't stopped it's only the beginning and I will miss working with Adam. Hes become a friend and we loved a good moaning session. Will keep in touch and who knows I
may be back. Thank u for my gifts (the kids love the badminton set) and thanks for your help.xxxx"
---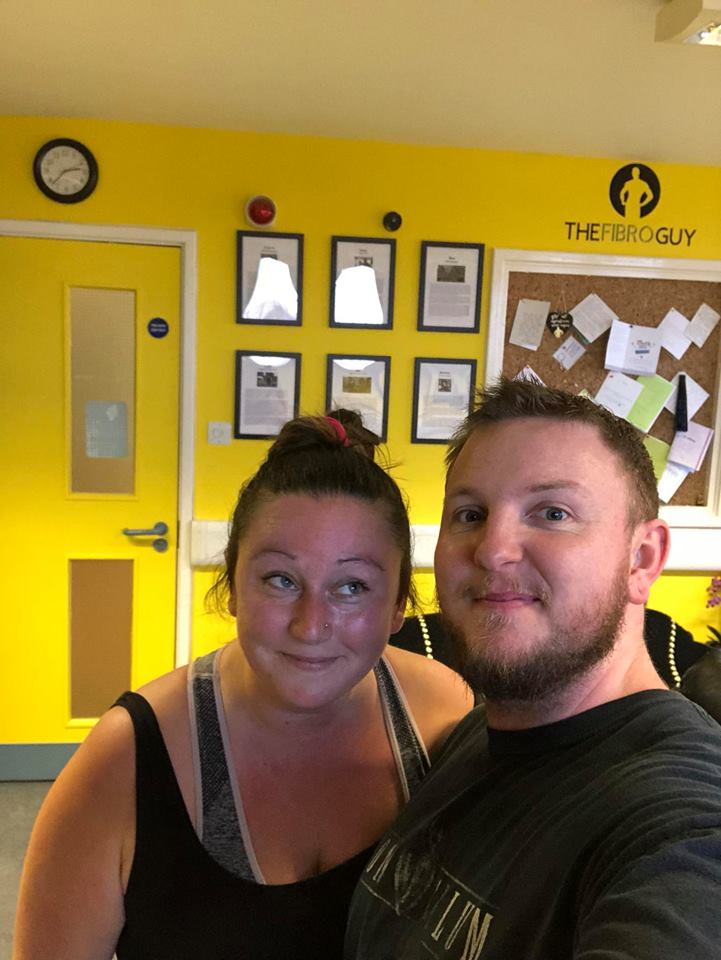 Zhoie- Fibromyalgia and Hypermobility
A few weeks ago Zhoie's mother emailed :
"At 33 years old, Zohie lives the life of an elderly person, never knowing what can trigger an effect on her body from moment to moment. I honestly feel she has lost the last 10 years of her life through illness. I'd be grateful for your help"
Walking was an impossible, taxing and painful task a few weeks ago for Zhoie and being hyper-mobile made things worst. This picture is from when we went for a mini run last week, without back pain and unstable joints 
😊
Way to go Zhoie!
---