Introduction
Contained within this hypermobility rehab resource page, you will find hypermobility exercises, stretches, and information on all things hypermobility.
Over the years, we have been very lucky to work with many clients from all around the world, both in-person and online, and this also extends to clients with Ehlers-Danlos syndrome and Hypermobility Spectrum Disorder.
Our Hypermobility rehab programmes over the years have gained media attention, being featured in both local and national newspapers, and also broadcast on television, including ITV news. With all that being said, we actually first started working with hypermobility by complete accident!
Whilst working with clients with fibromyalgia, we started to notice that around 50%-60%  of those clients were actually on the Hypermobility spectrum, and as a result, we had to change certain parts to our main programme framework.
Our founder Adam is notorious when it comes to never leaving things be, you can always find him trying to improve on our main programme framework, trialling new methods with volunteers, so you can imagine the work that Adam has put into our hypermobility rehab programme over the years.
However, we often find the same issues pop up time and time again when it comes to hypermobility.
Outdated information that doesn't work.
Everybody offering the same advice for hypermobility that just doesn't work, or at best yields little results.
No proof in the pudding, as they say.
The same old hypermobility exercises that don't work.
One of the biggest struggles we have faced with hypermobility is the sheer lack of "good" research being done, especially when it comes to hypermobility exercises.
Our Research Into Hypermobility Rehab
We hit it lucky with our chronic pain programme framework when much of what we already thought was correct, was indeed proved right when more and more research was done around Fibromyalgia.
Unfortunately, with hypermobility, some parts to the hypermobility rehab framework that we created, we just don't have solid evidence to back up. We here at The Fibro Guy know they work, as we have used them for a long time to create some of the most incredible rehab success stories that you will find anywhere in the world. In fact, we have yet to find anyone who can mimic our results, and that's because the framework we use was created by us.
The problem we face is that the research has gone in the total opposite direction of which we needed it to go. This has resulted in us having to conduct our own research with volunteers, which in turn, has actually been a major benefit for us, as we continue to explore our own theories.
Before we get into some of the resources, below is one of our all-time favourite hypermobility rehab programmes.
If you are interested in cutting through all the misinformation and confusion, and starting your own hypermobility rehab programme, you can get in touch with us by clicking here.
*Please note that this is a new page and we are currently finishing some content, this means that certain links will not be active yet, apologies for the delay*
Hypermobility and posture: What you need to know.
Hypermobility and age: 3 stages of hypermobility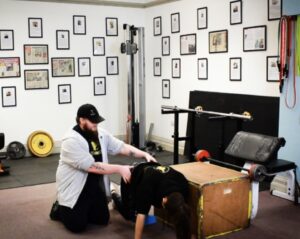 A Hypermobility Rehab story
We enjoy all of our client's programmes, especially the hypermobility rehabilitation programmes, so when young Eilidh came to the studio struggling with her joints, we got right to work.
Eilidh: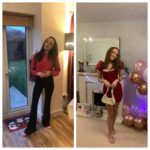 The first photo was taken this time last year when I was in the darkest place I've ever been in. My body had completely given up on me, I couldn't eat, I couldn't sleep, and I could barely walk. I burst into tears every day because I just couldn't see the light at the end of the tunnel. My chronic illness had completely taken over my life for the past two years, I was in pain all the time from my joints constantly dislocating and I was so fatigued, most of the time, I could barely talk. Because of this, I developed severe mental issues, most of which I'm still dealing with to this day.
It was one thing after another until I found the fibro guy's hypermobility rehabilitation programme online, suggested to me by a relative. The NHS couldn't do anything for me so by this point I was desperate and thank god for that. Almost immediately after starting the course, I saw improvements almost right away. Through lockdown, Jonny and I, at the Edinburgh studio, worked and worked and worked and thanks to him I graduated from the program in August. Since then, my quality of life has improved massively, I could go back to gymnastics, I started college, I went to concerts and I've never been happier.
The second picture was taken on my birthday and for one of the first times since March 2019, my smile is genuine. I didn't take that picture then have to sit down for 20 minutes because I was so tired, after taking this pic, I went out and enjoyed life. I could never have gotten anywhere near the place I'm at now without the massive support from my family and friends, and I'm eternally grateful for that.
If anyone struggling with a fatigue based illness or chronic pain, I cannot recommend reaching out to Jonny and the team enough!
---
The Fibro Guy Jonny:
I absolutely loved taking Eilidh through her hypermobility rehabilitation programme, and having Eilidh back in the studio this week for a catch up after her programme ended last August, and I was really interested to see how she was living her new pain-free life.
When I first met Eilidh she couldn't even walk upstairs without it flaring up her hip pain, she had stopped her dancing and gymnastics hobbies, and getting to school had become an utter hardship!
Eilidh's joints were unstable due to Hypermobility and the constant subluxes of her hands, knees, and ribs, which had zapped any form of appetite she once had.
But, today I had the sheer pleasure of catching up with her to see how she had been spending her pain-free days after finishing her programme in August, and boy I was not disappointed!
Apart from most likely attending every Sam Fender concert on the planet, Eilidh now has a job, whilst also attending college, and she is even back at gymnastics. I ask Eilidh what her goals were when I first met her, and to be able to attend gymnastics again was right at the top, so you can imagine how pleased I am that she's back at it again. My favourite part of Eilidh's recovery was when her personality really started to come out during the program, watching her fill with energy so much, that by the end of her programme I was the one struggling to keep up.
It was lovely to see you again Eilidh and from myself and the rest of the team, we can't wait to see where 2022 takes you!